February 25, 2014 | 0 Comments
March 10 Quarterly Metro Service Change
Return to Blog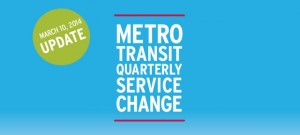 In an effort to build a better transit experience, Metro transit is constantly monitoring and reviewing feedback from our customers and our operators.
As a result, every quarter Metro makes service change updates to MetroBus routes and schedules in order to meet our customers' needs and improve MetroLink connections and MetroBus route performance.
The next quarterly service change is scheduled to be implemented on Monday, March 10. Brief details of the changes to MetroBus routes are as follows:
If you have any questions or need more information about the March 10 Service Change, you can talk to our Customer Service representatives from 7:30 a.m. to 4:30 p.m., Monday through Friday, at (314) 982-1406 or (618) 271-7879.
Return to Blog
Categories:
Metro Lifestyle
,
Rider Alert
,
System Changes