February 23, 2016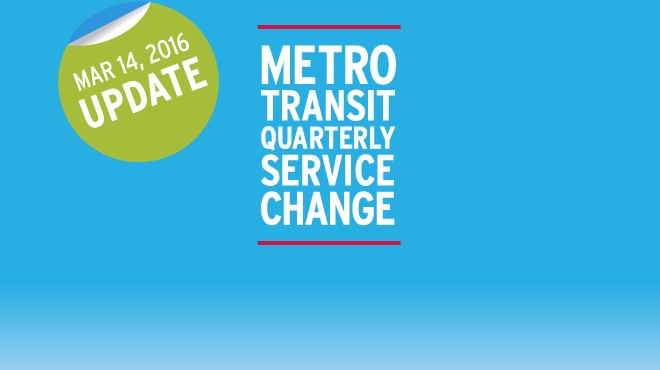 In an effort to build a better transit experience, Metro transit is constantly monitoring and reviewing feedback from our passengers and operators.
As a result, every quarter Metro makes service change updates to MetroBus routes and schedules in order to meet our riders' needs and to improve MetroLink connections and MetroBus route performance.
---
March 14 Service Change Information
View new schedules, maps and the latest changes coming to your MetroBus route.
---
The next quarterly service change is scheduled to for Monday, March 14 and it will impact the operations of 48 MetroBus routes in the St. Louis metropolitan region, including the introduction of nine new MetroBus routes and discontinuation of service on eight MetroBus routes. MetroLink will not be impacted by the quarterly service change.

Summary of major MetroBus changes effective Monday, March 14:

A good amount of MetroBus changes will occur in North St. Louis County, with the introduction of a new and completed redesigned MetroBus service plan.
March 14 will also be the first day of service for the North County Transit Center. This new transit center, located at 3140 Pershall Road between West Florissant Avenue and New Halls Ferry Road, will offer passengers an even better transit experience with new amenities and features, including: public restrooms, indoor waiting area, security, digital arrival time display boards, a few Park-Ride lot and a cafe (slated to open sometime this summer).
Visit metrostlouis.org for more information about the March 14 service change. If you have any questions, email [email protected] or contact Metro Transit Information at 314-231-2345 or 618-271-2345, Monday-Friday, from 7:30 a.m. to 4:30 p.m.
Return to Blog