June 2, 2015
Meet the Artists & View Their Work at MetroScapes Art Exhibit
Return to Blog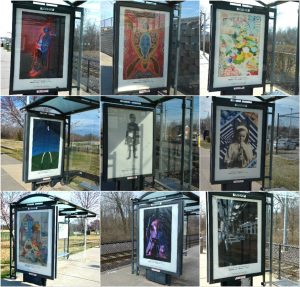 Join Metro Arts in Transit for the inaugural MetroScapes public transit art exhibit and reception for the artists this Friday, June 5 at Hoffman LaChance Contemporary, located at 2713 Sutton Boulevard in Maplewood.
You can enjoy light refreshments while meeting the artists and viewing their original artwork, which will be on display during the special event and through June 13. The June 5 reception runs from 6 p.m. to 10 p.m. and it is free and open to the public.
MetroScapes is a Metro Arts in Transit program that showcases local art at Metro transit locations around the St. Louis region. Eleven local artists were selected from a group of nearly 100 submissions, and their pieces have been reproduced as large-scale, two-dimensional posters that are currently being featured at more than 200 MetroBus shelters in the area.
The winning artists and the title of their works are:
Lyndon Barrois – Wonder
Jane Birdsall-Lander and Sarah Lander – World Peace
David Chappell – Cosmic Solemnity
Alex Cunningham – Keepings
Marcis Curtis – Basil Kincaid: Artist
Julie Heller – Moonrise Over St. Louis
Alicia LaChance – Walking City
Megan Rieke – I hear Ya, Sisyphus. I hear Ya
Mark Swain – Turtle
Angela Vories – Wise Words – Rosa Parks
"Our MetroBus shelters are essentially hundreds of blank canvases dotting the entire metropolitan area, which makes Metro a perfect vehicle for delivering public art to the region," said David Allen, Director of Metro Arts in Transit. "With MetroScapes, not only do we have the opportunity to support and highlight the great work of St. Louis area artists, we are also enhancing our transit infrastructure and helping beautify the communities and neighborhoods we serve."
Metro, in conjunction with Lamar Advertising, invited bi-state artists to submit their artwork to the program last fall. Submissions were reviewed by a panel of artists and art professionals who selected the 10 winning posters based on quality of work, clarity and content that was intriguing, thought-provoking, inspirational, entertaining and/or enduring. The posters were installed at MetroBus shelters this spring and will be on display for one year.
Return to Blog
Categories:
Arts in Transit