October 19, 2011
Meet the Gateway Arch Builders at 46th Anniversary Celebration Saturday, Oct. 22
Return to Blog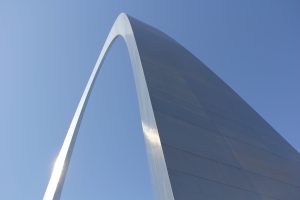 This week, the world's baseball fans will have their eyes on St. Louis and the Cardinals in the World Series. Inevitably, their eyes will also fall upon our most iconic image: the Gateway Arch. This weekend, the men and women who built the Arch will be in St. Louis to celebrate and share their stories about the Arch's magnificent completion.
From the Jefferson National Parks Association:
October 28, 2011 marks the 46th anniversary of the final section of the Gateway Arch being put into place. A celebration will be held in the Visitor Center under the Gateway Arch on Saturday, October 22 from 9:00 a.m. to 12:30 p.m. Join the Jefferson National Parks Associaton and Gateway Arch for the celebration!
Meet builders and workers who were on the Arch construction project, as they will share their incredible first-hand stories of their roles in building a structure that had never been built before or since. At the celebration event, they will share their memorabilia and photographs—some of which have never been seen before by the public.
For more information about events at the Gateway Arch, visit the Core of Discovery.
Return to Blog