September 15, 2014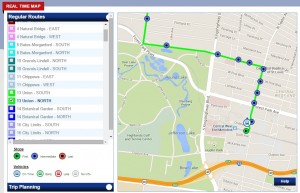 Metro transit has added a new feature to our Trip Planner which includes a display of bus positions on a map in real time for all 75 bus routes in the St. Louis region.
A "Real Time Map" link has been added to the Trip Planner. To find the link, you access the Trip Planner as you have always done. There are no new steps to take.
When you click the "Real Time Map" link,  you may select your desired bus route and direction. From there, our system will show the number of buses currently operating on that route and their locations. The real-time data is updated every 60 seconds.
In addition to pinpointing where a MetroBus vehicle is on a route, you can also find the status of a particular bus route and plan accordingly. A bus can show four different status symbols, and they include: on time, early, late or no information available.
To access additional information about a particular bus vehicle, you just click on the bus. Then you can find out how many minutes a bus is running ahead or behind schedule.
Return to Blog