September 16, 2014
Metro, Red Cross, All Ready Team Up For Emergency Preparedness Month
Return to Blog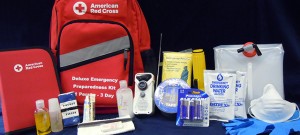 Metro Ambassadors and volunteers from the American Red Cross and the All Ready Campaign will be distributing emergency preparedness information at several Metro transit locations Thursday from 3 p.m. to 5 p.m.
September is Emergency Preparedness Month, and Metro, the Red Cross, and the All Ready Campaign are teaming up to raise awareness about the importance of being prepared for all kinds of emergencies and disasters.
In addition to receiving Red Cross and ALLReadySTL emergency preparedness information, Metro passengers will be given forms to enter a drawing for a chance to win one of eight Red Cross Emergency Preparedness Kits. The forms can be filled out on the spot, or online at www.metrostlouis.org, or mailed to Metro at 707 North First Street, Mailstop #146, St. Louis, MO 63102. All entries are due by 5 p.m. on Friday, Sept. 26.
Volunteers from the Red Cross, the All Ready Campaign and Metro Ambassadors will be stationed at the:
Shrewsbury Lansdowne I-44 MetroLink Station, 7201 Lansdowne Ave., Shrewsbury, MO
Rock Road MetroLink Station, 7019 St. Charles Rock Road, Saint Louis, MO
Delmar Loop MetroLink Station, 660 Rosedale, Saint Louis, MO
Grand MetroLink Station, 3560 Scott Avenue, Saint Louis, MO
Union Station MetroLink Station, 300 South 18th Street, Saint Louis, MO
Emerson Park MetroLink Station, 929 North 15th Street, East St. Louis, IL
Riverview-Hall Transit Center, 9021 Riverview Drive, Saint Louis, MO
Return to Blog
Categories:
Safety