July 25, 2019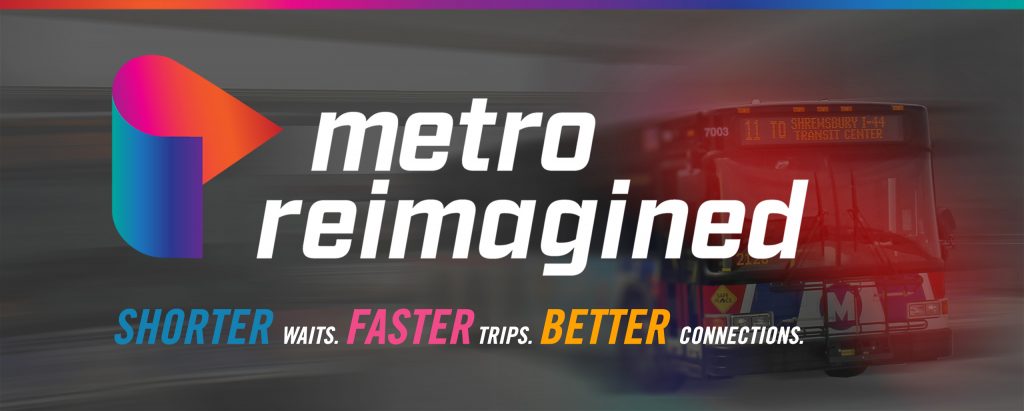 The final version of the Metro Reimagined Service Plan has been released, and new route information, maps and schedules are available. The new service plan will be implemented on Monday, September 30, and it will provide you with transit options that better meet your needs, with more frequent service, improved weekend service and more convenient options for getting around town.
"More than two years ago, we recognized that we needed to make significant changes to the MetroBus system to better meet the mobility needs of our riders. In response, we launched Metro Reimagined, an in-depth look at our transit system, to identify the enhancements we needed to make," said Jessica Mefford-Miller, Executive Director of Metro Transit. "This has been a customer-focused approach from day one, and the new service plan we are launching in September will deliver the service our customers need – today and into the future."
Under the new plan, there will be changes to every MetroBus route in Missouri. There is no impact to Illinois bus routes or MetroLink under this service change.
Research, customer engagement and community outreach identified faster, more direct trips and more frequent service as high priorities that bus riders want from their transit service. Through the newly finalized Metro Reimagined service plan, Metro Transit is increasing the frequency of most MetroBus routes.
Ten routes, which carry nearly half of current MetroBus customers in Missouri, are offering service every 15 minutes or faster on weekdays. In comparison, the MetroBus system currently only has one bus route that offers that 15-minute frequency. In addition, the new service plan includes 35 MetroBus routes that will offer 30-minute frequencies, instead of the 40-minute or 60-minute service many routes operate on today.
Weekend service is also being improved through the Metro Reimagined plan. Nearly all MetroBus routes will have Sunday service, including many routes that currently do not operate on Sundays. Service levels will also be consistent on Saturdays and Sundays. This improved service provides better options and more reliability for customers over the entire weekend.
MetroBus routes are organized into four categories through the new service plan:
Frequent: 10 high-frequency routes offering service every 15 minutes or faster
Local: 35 MetroBus routes offering service every 30 minutes
Community: 6 routes providing important connections in low-ridership areas
Express: 6 routes providing direct connections with limited stops to key destinations
Visit the Metro Reimagined page to learn specific details about these new routes and the new service plan. If you have any questions or need any assistance, reach out to one of our transit experts. Metro Transit Information is available Monday through Friday, from 7 a.m. to 6 p.m. by phone at 314.231.2345, by text at 314.207.9786, or through web chat by clicking the red chat icon in the lower right corner.
Return to Blog
Categories:
System Changes