April 9, 2010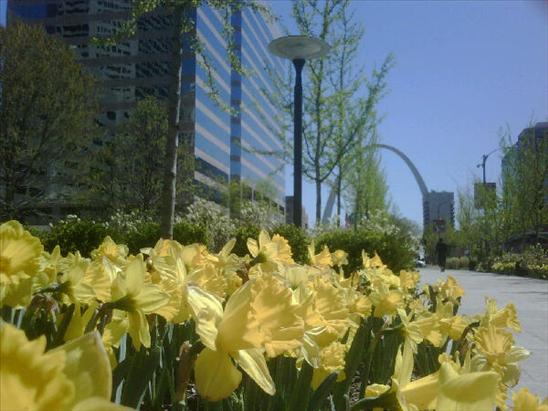 It's setting up to be another out-and-about kind of weekend in St. Louis. The sun is shining, temperatures warming up, and thousands of people in St. Louis will be "running" around in the next few days. Here's a quick list of some of the events are going on around the region, and how you can take public transit to get there.
For thousands of St. Louis distance runners, this is the Big Weekend – the GO! St. Louis races. On Saturday, April 10 in Forest Park the popular family day races will take place, featuring a 5K Run/Walk, Read, Right & Run Marathon, Children's Fun Runs and a Mature Mile. On Sunday, April 11 more than 17,000 athletes will compete in the marathon, half marathon or marathon relay. The Marathon and Half-Marathon routes run next to many MetroBus and MetroLink station – see route map. Take Metro to avoid the traffic and parking.
Many bus routes will be rerouted due to the racing activities, including:
01 GOLD
02 RED
04 Natural Bridge
10 Gravois
11 Chippewa
13 Union
16 City Limits
18 Taylor
30 Soulard
32 Wellston-M.L.King
40 Broadway
41 Lee
42 Sarah
59 Shaw
74 Florissant
90 Hampton
94 Page
97 Delmar
GREEN
Check here for specific race day bus reroutes and delays.
Eco Expo 2010 – James S. McDonnell Planetarium, at the Saint Louis Science Center April 10-11
Saturday and Sunday EcoLifeSTL is presenting Eco Expo 2010 at the Science Center Planetarium. The event will feature over 80 boots on conservation, eco-friendly products and services, and alternative transportation options. And come say hi to us at the Metro booth!
The Eco Expo will be running shuttles from the Muny parking lot behind the Missouri History Museum (short walk from Forest Park-DeBaliviere MetroLink Station). There are also plenty of bike-friendly lanes throughout the park, and secure bike parking at the event. Visit the Eco Expo website for event directions and transportation options.
St. Louis Cardinals Baseball Opening Day – April 12
Could this possibly be the finest day of the year in St. Louis? It's baseball season again, and Monday, April 12 at 3:15 p.m. is the Cardinals home opener against the Houston Astros. If you plan on going to the game or just soaking in the excitement, MetroLink runs trains to the Busch Stadium station every 7-10 minutes on each line.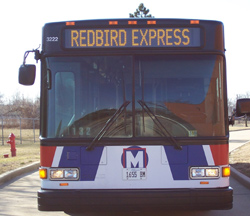 The Red Bird Express also runs from 134 St. Clair Square in Fairview Heights, Il, 62208, near the Water Tower. First bus leaves two hours prior to game time with service every 10 minutes. Fares are round trip only. Cash fares only. No passes, tickets, or transfers accepted on Special Service. Exact fares please.
All Buses are wheelchair lift equipped and unload/load outside on the corner of 7th & Clark. Gate 4 of Busch Stadium is the closest entrance to the Game.
Last bus leaves 40 minutes prior to game times. The last bus will return from the stadium 25 minutes after the official end of the game. For a schedule of times, see the St. Clair County Transit District.
Get out St. Louis, and safe travels!
Return to Blog
Categories:
Transit Benefits