May 2, 2013
Dennis Hampton may seem like your ordinary 18-year-old. He's getting ready to graduate from Madison High School and is set to start at SIUE in the fall.
But Dennis has a unique hobby. He builds MetroBus and Madison County Transit Bus models – from scratch. His incredibly accurate models are generated completely by his own creativity and substantial artistic skills.
Dennis has been taking public transportation since shortly after his birth; his father brought him home from the hospital on the bus. "I take transit every day, everywhere," Dennis told me. "I take transit to school sometimes, the library, across the river to the zoo, Forest Park, Culinaria, everywhere."
Taking Metro energized Dennis' creativity. When he was little, he would draw pictures of buses, hold them up next to his head, and pretend he was aboard for a ride.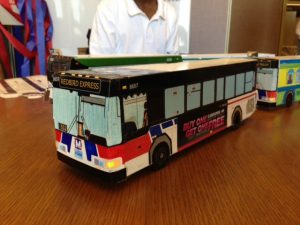 "I started building these models Metro gave out, but then I realized, 'Hey I can make something like this,'" Dennis said. "In the 4th grade, I started actually building buses. As time went on and as I grew up, the details developed and I kept adding to my models and paid closer attention to the buses when I was riding them."
Every detail on these models is made by Dennis. In the beginning he would draw out each and every detail. He would put together the models using cardboard from K-Mart or Walmart. More recently, Dennis has been using programs like PowerPoint to create graphic designs. "Power Point is my best friend right now. Everything you see, the lights, license plates, windows, numbers, signs – they are all made on PowerPoint." Dennis prints out his designs, cuts them out, and applies them to his cardboard models with double-sided tape."
The hardest part according to Dennis, is making the back of a MetroBus.  "The shape is different and they are challenging," he said. "I use wire from the art store on Delmar to make them more accurate."
"Let me tell you something, these are really good," said Metro's Chief Operating Officer of Transit Services Ray Friem. "The attention to detail is just uncanny. You have some real talent here."
Dennis has even begun refurbishing his older models. "The Forest Park Trolley is a refurb," Dennis said grabbing the miniature Metro Trolley. "This took about two weeks to make. I drew out everything on the bus, like the people on the windows and the designs. Then I took it to Office Max and they copied it, and printed it on a big shipping label. Then I cut it into strips and applied it to the cardboard."
My hands are cramping just thinking about the time it takes to get each and every little light and detail on the model in just the right spot.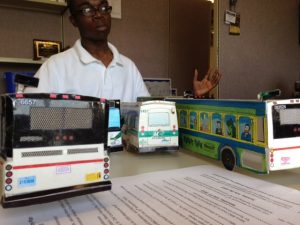 "I work on my models whenever I have free time," Dennis told me. He balances his hobby with school work, extracurricular activities, and college preparation.
Dennis' models are building a name for themselves. One Madison Country Transit bus driver asked Dennis make him a model for his retirement cake and he has made several models for bus operators and teachers.
We want to wish Dennis the best as he prepares to start college in the fall. He's planning to major in communications or graphic design; maybe both.
And the big question: Will he keep making these excellent models when he's in college?
"Absolutely. It's my passion."
Return to Blog