February 17, 2011
Metro COO Ray Friem on New MetroBus Emissions Technology & Real-Time Bus Tracking
Return to Blog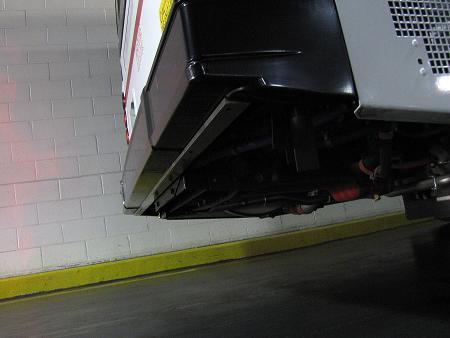 Nextstop readers have asked in recent comments about the fuel and emissions technology of the new low-floor buses that Metro is putting into service and will continue take delivery of over the next several years.  During this week's STLToday.com Metro Live Chat, Chief Operating Officer Ray Friem answered questions about the new buses:
The buses are ULS Diesel (Ultra-Low Sulfur), and they are equipped with state of the art emissions systems that meet the next generation of proposed emissions standards (as we currently understand them). The bus will deliver improved fuel economy, and the emissions system burns particulates, and has a special urea injection system resulting in lower NOx (nitrogen oxides) emissions from these buses than the current Compressed Natural Gas (CNG) technology. NOx is probably the leading pollutant in the St. Louis region and is one of the key elements of the few Red air quality days the region experiences. To help manage through [the fuel market], Metro maintains an aggressive fuel hedging program which doesn't entirely insulate us from fuel prices, but at least smooths out the price spikes.

As for choices of fuel technology, we have already discussed the merits of the existing diesel emissions technology. Word is that the urea system on this bus will be deployed in future CNG buses to reduce NOx emissions from those as well. With comparable emissions results, the choice comes down to two factors; range and life-cycle cost. The CNG buses are approximately 25% more expensive to purchase, and about 20% more expensive to maintain over the life of the bus. This is offset in part by somewhat lower (by today's standards) fuel costs. As for range, many buses need to go in excess of 450 miles between daily fuelings. On the smaller buses, there simply isn't the room for fuel storage tanks to meet this requirement. This technology is advancing as well, and we will keep an eye on it for future applications.
Friem also spoke about another popular topic, GPS bus tracking and its implications for passengers:
The entire fleet should be equipped with a GPS system by the end of 2013. The system, which we call the Automatic Vehicle Locator (AVL) system will allow for more efficient scheduling of the system (monitoring of bus to bus or bus to rail connections most specifically). Once that project is complete, Metro will start another project to take that data and make it available to customers in real time format through cell phone and digital applications. That should really make the system more user friendly.
Thank you to everyone who completed the "How to Encourage Others to Try MetroBus" survey posted last week.  Over 200 people responded, with 84 taking time to add write-in comments on specific strategies to increase bus ridership.  Great job everyone!  Next week, Nextstop will post a comprehensive review of the survey results, and what steps Metro can take to get more people on board with buses.
Return to Blog
Categories:
Metro Lifestyle
,
Technology