May 14, 2015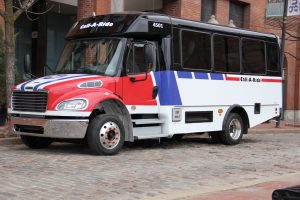 Metro transit is replacing older models of its 120-van Metro Call‑A‑Ride fleet with 37 new vans that will improve the overall transit experience for Metro customers.
The new Metro Call‑A‑Ride vans were manufactured by Champion Bus and built on a Freightliner chassis, which offers a sharper turning radius, larger cab space and better visibility. The vans accommodate a seating capacity of 14, like the older models they are replacing, but feature a wheelchair lift positioned in the middle of the van instead of the rear and a forward-seating area for wheelchair passengers, both of which provide a better quality ride.
"These new vans are a great investment," said Ray Friem, Metro's Chief Operating Officer of Transit Services. "Not only will we be able to provide our paratransit customers with upgraded vehicles and a more comfortable commute, with our world-class preventative maintenance program, we'll be able to reduce costs and expenses by keeping these new vans in top working condition for years to come."
T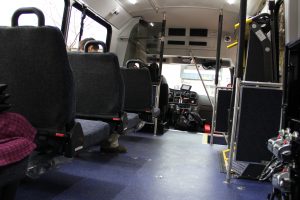 he Federal Transit Administration requires about five years of service or about 150,000 miles traveled before we are allowed to retire the vans used for our paratransit operations. The Metro Call‑A‑Ride vans being replaced are 2003-2004 models with more than 400,000 miles on the odometer.
The 37 new Metro Call‑A‑Ride vans are the first installment of a contract that will replace 68 additional vans over the next five years.
Return to Blog