March 23, 2018
Metro Hosts Informational Meetings, Public Hearings About New Transit Plan
Return to Blog
CORRECTION: An earlier version of this blog story stated the incorrect location of the public hearing on Thursday, April 19. The public hearing will take place at The Heights Community Center (8001 Dale Avenue) on Thursday, April 19 from 3 p.m. – 6 p.m.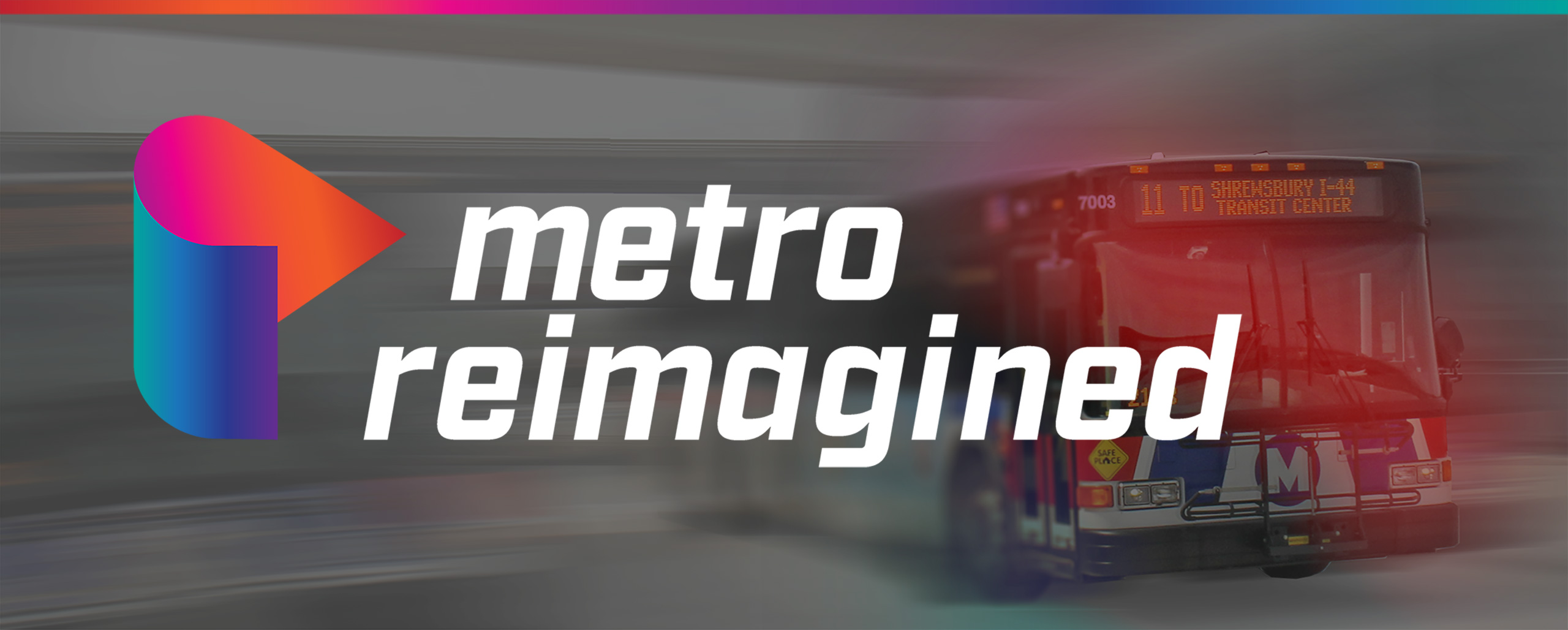 Metro Transit is asking for your input about a preliminary plan that will change public transit in the St. Louis region.
---
Learn more: Find out about the new plan, including detailed maps
---
The new strategy will update service options and incorporate innovative transit concepts that will offer Metro riders faster, more frequent service. Metro will host six informational meetings and two public hearings in April to share the proposed plan with transit riders, stakeholders and the public to gather feedback on the service options being considered.
The public is invited to attend the informational meetings to learn more about the proposed plan, speak with a transit planner, ask questions and share their feedback.
Pop-Up Events
---
‣ Civic Center Transit Center
Monday, March 26 | 6 a.m. to 9 a.m.
‣ Riverview Transit Center
Wednesday, March 28 | 2:30 p.m. to 5:30 p.m.
‣ Shrewsbury-Lansdowne I-44 Transit Center
Wednesday, March 28 | 2:30 p.m. to 5:30 p.m.
Informational Meetings
---
‣ North Hanley Transit Center
Tuesday, April 3 | 2:30 p.m. to 5:30 p.m.
‣ Ballas Transit Center
Wednesday, April 4 | 2:30 p.m. to 5:30 p.m.
‣ North County Transit Center
Thursday, April 5 | 2:30 p.m. to 5:30 p.m..
‣ Thomas Dunn Learning Center
Tuesday, April 10 | 3 p.m. to 6 p.m.
‣ Affton White-Rodgers Community Center
Wednesday, April 11 | 3 p.m. to 6 p.m.
‣ St. Louis Public Library, Central Library
Tuesday, April 17 | 4 p.m. to 7 p.m.
Public Hearings
---
‣ St. Louis City Municipal Court Building 
Wednesday, April 18 | 11 a.m. to 2 p.m.
‣ The Heights Community Center
Thursday, April 19 | 3 p.m. to 6 p.m.
Metro launched Metro Reimagined, a comprehensive analysis of the MetroBus system, in July 2017 to ensure that Metro is positioned to meet the evolving transportation needs of the St. Louis region, today and in the future. Combined with input from transit users and the public, the information collected through the Metro Reimagined study has allowed Metro planners to identify enhancements to the transit system and develop a new service plan that will improve the customer experience, increase access to destinations throughout the area and address the future mobility needs of the region.
---
Your input: Let us know what you think about this new proposed service plan. Complete our Online Survey.
---
Return to Blog
Categories:
System Changes