July 17, 2014
Metro Introduces the Gateway Smart Card – "Your New Ticket to Ride"
Return to Blog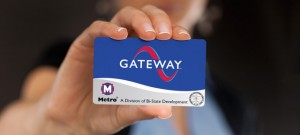 The Bi-State Development Agency/Metro unveiled the new name and design for the Gateway Smart Card that will begin being used by the public next year. An arch designed into the Gateway logo flows into a wave along the bottom depicting the Mississippi River.
The smart card is part of Metro's new fare collection system, a more convenient, secure way to pay Metro transit fares. Instead of paper tickets or passes, the Gateway Card will contain a computer chip that stores Metro passes or cash value. The fare is automatically deducted when customers tap their card on fare equipment each time they ride.
"Much of our current fare collection equipment can be replaced with new technology to improve both our efficiencies as well as the customer experience." said John Nations, Bi-State Development Agency/Metro President & CEO. "The Gateway Card and this new system will transform the way we do business and will bring our operations up to 21st century standards."
The smart card system is currently being tested in preparation for next year's rollout. Hundreds of Metro customers have volunteered to test the new system before it is rolled out to the general public. Metro will gradually phase in Gateway Cards to its customer groups until all customers have moved to smart cards.
Nations added, "We will not move to the next phase until all of the elements in the previous phase meet our standards. A careful and deliberate approach to our smart card transition will help ensure a better functioning system for our riders."
The Gateway Smart Card will benefit Metro transit riders by providing the following:
More convenience: The Gateway Card can be loaded online, at ticket vending machines at all MetroLink stations, at some transit centers, at select retail outlets, or at the MetroStore downtown. For maximum convenience, customers will be able to set up autoloads to replenish the balance when it gets low, or to renew a pass that is soon to expire.
More security: Customers can register their Gateway Card so the balance is protected if it is lost or stolen.
Less hassle: The Gateway Card stores passes, cash value and discounts (for qualified customers). No need for exact change.
Better service: Gateway will make it possible for Metro to tailor routes and schedules to better meet customer needs.
Extra savings: Through a "daily cap" function, customers won't pay more than a set amount, no matter how many times they ride in a day.
Metro's new fare technology will be the "Gateway" to transit and to the region by better connecting customers to family, friends, work, school, medical care, entertainment and other important destinations in their lives.
More details will become available as Metro moves forward with smart card testing. Customers may call 314-982-1500 (MO) or 618-274-1500 (IL), and visit mygatewaycard.com for more information.
Return to Blog
Categories:
Capital Projects
,
Metro Lifestyle
,
Technology
,
Transit Benefits