July 17, 2015
Metro is Your Solution to Getting Around the MLK Bridge Closure
Return to Blog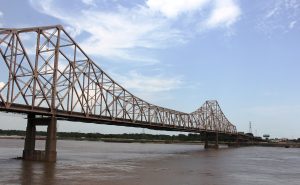 The Martin Luther King Bridge is scheduled to be closed to all traffic starting at 9 a.m. on Monday, July 20 for bridge rehabilitation work. Metro is a great option for avoiding congestion and heavy traffic as drivers are diverted to detours and alternative bridges to cross the Mississippi River.
You can park at any one of our 21 free Park-Ride lots in Missouri and Illinois and ride MetroLink to stay off the roads and out of traffic. You can also combine bus and rail and use MetroBus to reach your destination, as almost all of our MetroLink Stations are served by MetroBus routes.
Plan your trip on Metro by using our handy Trip Planner tool or download our official mobile app, Metro On The Go. You can also call Metro Transit Information at 314-231-2345 or 618-271-2345, Monday to Friday between 7 a.m. and 4:30 p.m., for assistance.
According to the Illinois Department of Transportation, the closure of the Martin Luther King Bridge is necessary to accommodate construction crews who will be making repairs to extend the life of the bridge. The rehabilitation project includes the complete replacement of the steel grid deck in the middle span, structural steel repairs, expansion joint repairs and painting.
Return to Blog