June 1, 2015
Metro is Your Ticket to the Ultimate Baseball Experience
Return to Blog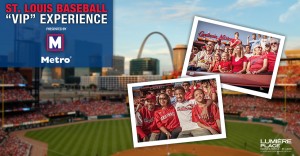 Whether it's for work, life or play, Metro transit takes you where you want to go. And if you've ever dreamed about standing on the pitcher's mound at Busch Stadium, here's your chance to turn your dream into reality.
Metro is giving away the ultimate St. Louis baseball experience: an opportunity to throw out the first pitch at Busch Stadium on Saturday, August 15. The lucky winner will also receive overnight deluxe hotel accommodations at HoteLumiere and Casino in downtown St. Louis and four box seats to the game for friends and family to share in this once-in-a-lifetime experience.
Ready to be a St. Louis baseball VIP? Submit your entry form today!
All entries must be received before midnight on Sunday, June 14.
Return to Blog