August 27, 2015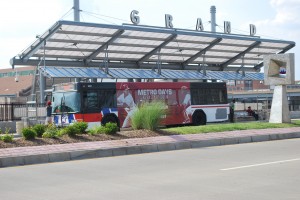 Whether you're headed into St. Louis this weekend to watch the St. Louis Rams or to explore cultures from around the world in Tower Grove Park, Metro transit is a great way to get around town and avoid the hassles of traffic and parking.
Looking for a bit of culture this weekend? Head to Tower Grove Park for the Festival of Nations. The two-day multicultural festival features dance, music, food, cultural and educational exhibits, folk art demonstrations and crafts. It starts on Saturday, Aug. 29 from 10 a.m. to 7 p.m. and wraps up Sunday, Aug. 30 from 10 a.m. to 6 p.m. Admission and entertainment are free to the public.
You can park your car for free at any of our Metro Park-Ride lots in Missouri or Illinois, and take the train to the Grand MetroLink Station. From there, take the #70 Grand MetroBus south to Grand at Crittenden to reach the festival at Tower Grove Park. You can also reach the festival by riding the #30 Soulard to Arsenal at Grand.
If you're ready for some football, head to the Edwards Jones Dome on Saturday night as preseason football returns to St. Louis. The St. Louis Rams will face off against the Indianapolis Colts at 7 p.m. on Saturday, Aug. 29. Instead of paying for parking, take MetroLink to the Convention Center MetroLink Station, which is just two blocks away from the Edwards Jones Dome. Fans can also use the #40 Broadway or #99 Downtown Trolley to get to all of the NFL excitement.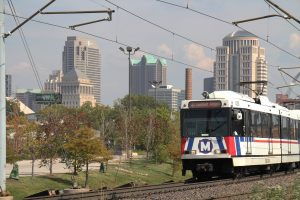 You can plan your trip on Metro transit using Trip Planner, Metro's app – Metro On The Go, or by calling Metro Transit Information at 314-231-2345 or 618-271-2345, Monday through Friday from 7:30 a.m. to 4:30 p.m.
MetroBus Reroutes – Moonlight Ramble
The annual Moonlight Ramble bike ride takes place just after midnight on Sunday, Aug. 30 at 12:01 a.m. Streets along the Moonlight Ramble route are expected to close as early as 11 p.m. on Saturday, and several MetroBus routes will be rerouted. These include: #01 Gold, #04 Natural Bridge, #08 Bates-Morganford, #10 Gravois-Lindell, #11 Chippewa, #13 Union, #14 Botanical Garden, #18 Taylor, #30 Soulard, #32 ML King-Chouteau, #40 Broadway, #42 Sarah, #59 Dogtown, #70 Grand, #80 Park-Shaw and the #95 Kingshighway.
Reroute information can be found on the Rider Alerts section of our website.
Return to Blog