October 12, 2020
Metro Joins APTA to Reinforce Commitment to Health & Safety During COVID-19
Return to Blog

The well-being of our riders and team members is our highest priority, and we remain committed to ensuring you, your fellow passengers and all of our team can travel safely in the region.
Since March 2020, Metro Transit has made adjustments to transit operations and policies to support safety on the transit system during the COVID-19 pandemic, while continuing to provide vital transportation options for everyone who needs to connect with their important destinations throughout the region.
As part of this continued commitment to safely moving our communities, we have signed onto the American Public Transportation Association (APTA) Health & Safety Commitments Program, an overarching pledge to passengers that we are taking all necessary measures to operate safely – so you can remain confident that you will have a safe, comfortable and convenient commute on Metro Transit.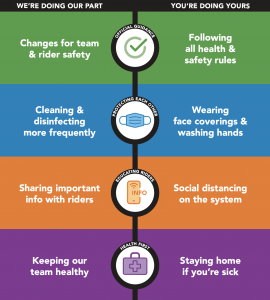 We're in this together, and we will continue to do our part:
Changes for team and rider safety. Our team is regularly reviewing policies and procedures and working with state and local officials to follow official public health guidelines.
Enhanced cleaning & disinfecting. MetroBus, MetroLink and Metro Call‑A‑Ride vehicles are being sanitized every night with disinfectants and cleaning agents that are CDC-approved to fight COVID-19. Our team is also working throughout the day to clean vehicles and high-touch surfaces at transit centers and stations.
Sharing important information with riders. We are keeping passengers informed about operations and schedule changes, as well as how they can stay safe while riding, through our website, audio announcements, signage on the system and social media.
Keeping our team healthy. We are putting our team's health first by installing polycarbonate shieldsaround the operator cabs on all buses, providing all operators with masks, gloves and other personal protective equipment, launching a contactless mobile fare option, and more.
A key component of this program is the shared responsibility of Metro Transit and our riders to keep the community safe. Join us in our efforts by:
Following all health and safety rules. Continue to follow all public health guidelines from official sources, and pay attention to any changes announced on our website, through signage on the system, and social media pages.
Wear a face covering and wash your hands. In support of safety for riders and team members, you must wear a face covering when you're riding, on a MetroLink platform, or waiting for your bus. You can also wash your hands regularly at any of our 38 handwashing stations throughout the system!
Social distancing when you're traveling with us. Give your fellow passengers space when riding – it is not rude to get up and move. When possible, travel during less busy times to allow for social distancing on your vehicle.
Staying home if you're feeling sick. We ask our team members to stay home if they are feeling ill or have been exposed, and we are asking you to do the same.
Learn about our efforts and important updates to service and operations here: metrostlouis.org/health
Return to Blog