August 4, 2016
Metro kicked off a new MetroBus stop adoption program called Adopt-A-Stop this morning outside of a Reliance Bank location at Windsor Place and Grand Boulevard in midtown St. Louis. Reliance Bank is Metro's first official corporate "adopter" of a MetroBus stop.
Metro transit is inviting businesses, not-for-profit organizations, community groups, neighborhoods, families and individuals to adopt MetroBus stops in the City of St. Louis and in St. Louis County in Missouri and in St. Clair County in Illinois.
"Metro is an important part of the community, and we touch the lives of hundreds of thousands of people throughout the region," said Ray Friem, Executive Director of Metro Transit. "That's a responsibility we take very seriously, and with our new Adopt-A-Stop program, we have an opportunity to work together to create a better transit experience, not only for our Metro passengers, but also for the neighborhoods we serve."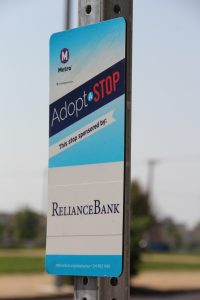 While the Adopt-A-Stop program may be new, Reliance Bank's efforts to keep MetroBus stop areas litter-free near its local bank locations is not. In addition to officially adopting the bus stop right outside of the Reliance Bank Loan Production Office at 1021 N. Grand Boulevard, Reliance Bank is also adopting two MetroBus stops outside of its branch location at Manchester and Tower Grove Avenues.
"As a locally owned community bank, Reliance takes great pride in supporting the Adopt-A-Stop program," said Allan Ivie IV, President of Community Banking at Reliance Bank. "Like Metro, we are committed to providing a positive experience for our customers and part of that experience is the neat and fresh look and feel of our branches and the surrounding area. We hope other local businesses will follow our lead and help Metro keep all of the stops in the metropolitan area clean."
There is no cost to apply or participate in the Adopt-A-Stop program. Businesses, organizations and individuals agree to regularly monitor their adopted stops, pick up litter and help keep the area around them clean for the period of one year.
In return, adopters will receive six one-day Metro transit passes, trash bags and other resources needed to maintain their bus stops. In addition, the name of the business, group or individual who adopted the MetroBus stop is displayed on a special Adopt-A-Sign sign at the stop.
Ready to find out about how to adopt a MetroBus stop? Then let's get started. You can call 314-982-1466 or learn more online.
Return to Blog