June 16, 2015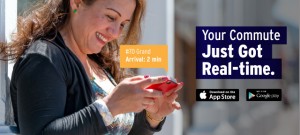 With the ability to track a MetroBus route in real-time and know exactly where your bus is, it's no surprise that our app — Metro On The Go — is a popular resource for transit riders.
In fact, since we launched the app in late March, it has been downloaded by more than 7,000 customers.
If you're not one of the more than 7,000 already taking advantage of Metro On The Go, find out what all the buzz is about by downloading the app for free from the Apple App Store or the Google Play Store.
Metro On The Go is the official mobile application of Metro transit. The app lets you plan your trip on Metro transit, check schedules for MetroLink and every MetroBus route, and tap into real-time vehicle data so you can see when the next bus will arrive — all from the palm of your hand.
It's the latest example of the agency's ongoing commitment to improve your transit experience by using technology to provide more resources for riders. In September of last year, we added a new real-time feature to Metro's desktop TripPlanner. We also launched a mobile-friendly Trip Planner in December, giving you another option when it comes to planning your commute.
Return to Blog