October 16, 2014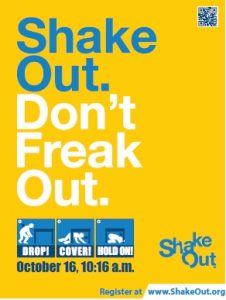 Bi-State Development Agency/Metro employees participated in the The Great ShakeOut at 10:16 a.m. this morning by following the appropriate earthquake drill procedures.
The Great ShakeOut, part of a nine-state annual drill where residents, schools, businesses, organizations and others conduct earthquake drills at the same time, aims to help residents and organizations be better prepared if an earthquake were to occur.
At 10:16 a.m., Metro employees who work in offices went under their desks to protect themselves like they would during a real earthquake. Our employees who work outdoors or operate a MetroBus, MetroLink and Metro Call‑A‑Ride vehicle, observed their surroundings.
More than 400,000 Missourians registered to take part in this year's Great ShakeOut earthquake drill. Last year, more than 2.4 million people in 10 states took part in the annual drill that teaches participants to "Drop, Cover and Hold On."
The Great ShakeOut was coordinated by Missouri State Emergency Management Agency, the Central U.S. Earthquake Consortium and its other member and associate states, the Federal Emergency Management Agency, the U.S. Geological Survey and dozens of other partners.
Great ShakeOut Earthquake drills began in California in 2008 and have expanded each year since then.
Below is a helpful video that'll help you remember how to prepare for an earthquake.
Return to Blog
Categories:
Safety