May 30, 2016
Updated (June 1) to include the #74 Florissant MetroBus route, which will see schedule adjustments as part of the June 13 service change.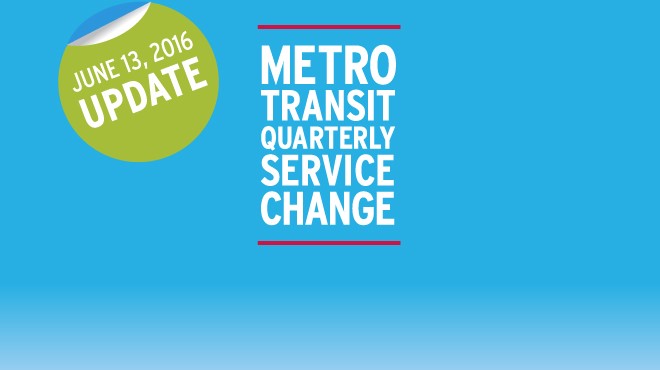 Metro regularly monitors and reviews feedback from passengers and operators as part of the organization's commitment to build a better transit experience for the St. Louis region. Each quarter, Metro uses this feedback, along with other trip data, to update MetroBus routes and schedules to improve on-time performance and MetroLink connections.
Please note that due to the Grand Bridge construction project over Interstate 44, two MetroBus express routes will leave 5 minutes earlier in the morning. Those affected routes are the #58X Twin Oaks Express and the #410X Eureka Express. Other MetroBus routes are also impacted by the service change.
Details of the Quarterly Service Change effective Monday, June 13, are as follows:
For questions or more information, please contact Metro Customer Service, available from 7:30 a.m. to 4:30 p.m., Monday through Friday, at 314-982-1406 or 618-271-7879.
Return to Blog
Categories:
System Changes