April 4, 2014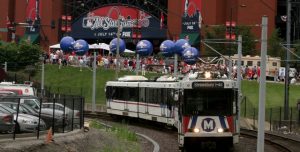 While Opening Day for our St. Louis Cardinals isn't technically a national holiday, it'll definitely feel like it. If you're able to sneak out of the office early on Monday (April 7), let us be the ones to get you to the Home Opener festivities.
Since the Cardinals home opener is on a work day and parking in Downtown St. Louis will be at a premium, the best bet for Redbird fans (or Cincinnati Reds fans) is to take MetroLink or MetroBus.
Baseball fans can use one of the 20 free Park-Ride lots located at MetroLink stations in both Missouri and Illinois, and take the train to the Stadium MetroLink Station or one of the other nearby MetroLink stations in downtown St. Louis to join in on the rallies or to dine before the game. Some of the lots are expected to reach capacity early, particularly at the Shrewsbury-Lansdowne I-44 and North Hanley MetroLink Stations, so customers are encouraged to utilize other less crowded Park-Ride lots and garages.
We'll have additional staff members on the MetroLink system Monday to assist baseball fans headed downtown. Extra trains will be added, as needed.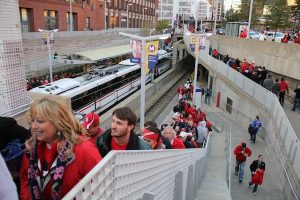 Fans who want to take MetroBus downtown, can plan their trips using our Trip Planner.
In addition to MetroLink and MetroBus routes getting fans to downtown St. Louis, the Redbird Express will resume operations Monday. The first Redbird Express leaves from the Water Tower at St. Clair Square in Fairview Heights, Illinois 2 ½ hours before the game with service every 3 to 5 minutes. On Monday, the Redbird Express buses will begin running at noon.  More information about the Redbird Express service can be found on the St. Clair County Transit District website, www.scctd.org, under the Special Services tab.
We want to see your Cardinals spirit! Take a photo of your Cardinals attire aboard our transit vehicles and share it on Twitter and Instagram. Make sure you include the hashtag #stlmetro and include @stlmetro in your posts!
We're looking forward to watching some great Cardinals baseball this season and getting you and your family and friends to the games.
Return to Blog