October 8, 2014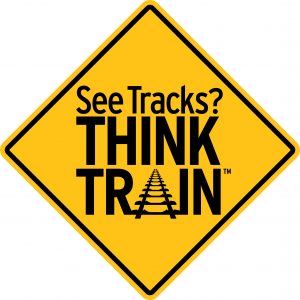 Every day in the United States, people are injured or killed trying to beat a train. Nationwide in 2013, 908 people were injured or killed while walking on or near railroad tracks.  That was up 7.7 percent from 2012, according to preliminary data from the Federal Railroad Administration.
At Metro, the safety of our customers and our operators is our top priority. To help better educate our passengers and residents who come in contact with our light rail system, we teamed up with Operation Lifesaver for safety campaigns in Missouri and in Illinois. As a result, we have received two grants totaling more than $12,000 to help fund the "See Tracks, Think Train" campaign.
We were awarded the first grant, a $5,000 regional grant from Operation Lifesaver, back in May for safety promotions that  targeted at the Delmar Loop, Grand and Civic Center MetroLink Stations. You've probably noticed the "See Tracks, Think Train" signs on the windows of MetroLink rail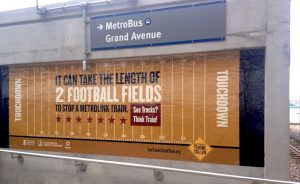 cars.  There are also large graphics on the walls at some of our stations.
There is no contest when it comes to you or your car versus a train whether it's a light rail train like MetroLink or a freight train. A train cannot swerve to avoid you, and a typical freight train can take more than a mile to stop. That's the distance of 18 football fields! It can take the length of two football fields to stop a MetroLink train.
The safety campaign helps customers understand that whether driving or walking, when people see tracks, they should use caution and be alert when around approaching or departing trains. The campaign's goal is to increase public awareness of transit surroundings and help people pay more attention around tracks.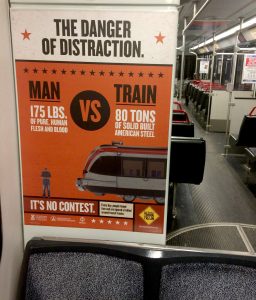 Last month, we were awarded a Transit Safety Education grant from Operation Lifesaver for $7,500 that required Metro to contribute $2,500, bringing the total for that campaign to $10,000. That campaign will be implemented next spring and the funds from this grant will be used to create an awareness program targeting MetroLink customers at our Rock Road, UMSL South, UMSL North, Fairview Heights, North Hanley and Wellston MetroLink Stations.
Operation Lifesaver is a nonprofit organization dedicated to rail safety public education.  It along with federal safety agencies, the nation's railroads, and others launched the safety campaign as a way to raise awareness about dangerous pedestrian and driver behavior around railroad tracks.
At Metro transit, we have five Operation Lifesaver presenters in our safety department who go out into the community to raise awareness and educate children, families and individuals about why they should never play or walk down railroad tracks, drive around the gates, or cross the tracks except at designated crossings.  It's important information that can save your life.

Return to Blog