May 29, 2014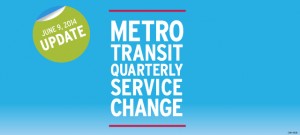 Metro transit updates constantly monitors and reviews feedback from customers and operators to build a better transit experience for the St. Louis region. As a result, MetroBus routes and schedules are updated to better improve MetroLink connections and MetroBus on-time performance.
Details of the Service Change effective June 9, 2014 are as follows:
Specific details about the June 9 MetroBus service change updates including the new schedules and maps can be found at www.metrostlouis.org in the Plan Your Trip section under Service Changes. Customer Service representatives are available from 7:30 a.m. to 4:30 p.m., Monday through Friday, by calling (314) 982-1406 or (618) 271-7879.
Return to Blog
Categories:
System Changes