March 4, 2015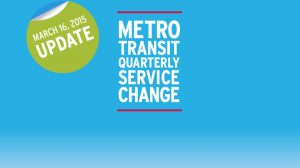 Metro transit constantly monitors and reviews feedback from customers and operators as part of the agency's commitment to build a better transit experience for the St. Louis region. As a result, MetroBus routes and schedules are regularly updated to improve MetroLink connections and MetroBus on-time performance.
Details of the service change, effective Monday, March 16, are as follows:
Specific details about the March 16 MetroBus service change updates, including new schedules and maps, can be found in the Plan Your Trip section under Service Changes. Customer Service representatives are available from 7:30 a.m. to 4:30 p.m., Monday through Friday, at 314-982-1406 (Missouri) or 618-271-7879 (Illinois).
Return to Blog
Categories:
System Changes