September 14, 2012
Metro Service in Forest Park Extended for Balloon Glow and The Great Forest Park Balloon Race
Return to Blog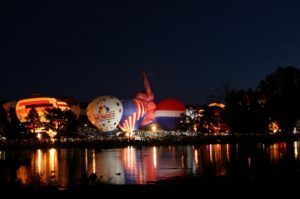 This is the weekend many Bi-State area residents look forward to every year– the weekend of The Great Forest Park Balloon Race.
The Balloon Glow is scheduled for tonight (Sept. 14) on the east side of Forest Park at Central Field and the Balloon Race will take place there tomorrow.  The Balloon Glow is a walk through event only– you are not allowed to drive in that area of Forest Park.
You may consider taking MetroLink to the Central West End Station and walking west to Central Field.
To accommodate the huge crowds expected both days, Metro Transit is extending service for the #3 Forest Park Trolley tonight and tomorrow.  The Forest Park Trolley route will be temporarily adjusted both days to allow for the road closures and traffic congestion in the park. The Trolley will ONLY operate between the Forest Park-DeBaliviere MetroLink Station Bus Stop and the Pagoda Circle.  The Trolley will run every 20 minutes until midnight tonight and every 20 minutes tomorrow from 9 a.m. until 9 p.m.  Click here to view map and the special #3 Forest Park Trolley schedule for today and tomorrow.
Starting at 5 p.m. tonight, the #90 Hampton MetroBus WILL NOT enter Forest Park due to Balloon Glow. Tomorrow (Sept. 15), the #90 Hampton will not operate in Forest Park between 9 a.m. and 9 p.m. due to The Great Forest Park Balloon Race. If bad weather tomorrow forces the postponement of the race, it will be rescheduled for Sunday, Sept. 16. The special Saturday #3  Forest Park Trolley schedule would then be implemented on Sunday.
Have fun, be safe and hope you take lots of great pictures!
Return to Blog