April 10, 2015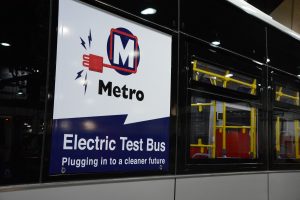 You may notice a bus on the #99 Downtown Trolley route in downtown St. Louis that doesn't look like our other MetroBus vehicles. That's because BYD Co. Ltd. has loaned us one of its electric buses to take for a two-week test drive, and you may be lucky enough to catch a ride on it.
We are operating the electric bus in downtown St. Louis through April 25. Metro is always looking for options to increase our efficiencies, capabilities, and ways to maximize the taxpayers' return on investment, especially with environmentally friendly alternatives. All components of the electric bus, from the motor to the braking system and windshield wipers, are powered by its two electric batteries.
"In the past few years, the industry has made significant progress in the area of extending the charge range for electric buses," says Ray Friem, Chief Operating Officer for Metro. "We thought it was a good time to get a firsthand look at how far electric buses have come."
The 40-foot bus can safely operate on a single charge for about 150 miles compared to about 500 miles on a full tank of gas for our current diesel-powered MetroBus vehicles. While the electric bus technology has made major advances in the last 15 years, Metro would like to see the technology produce a longer range before needing to be recharged. Charging infrastructure costs would have to be considered as well as maintaining the charging areas.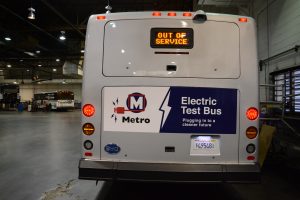 The initial investment in purchasing an electric bus would cost nearly double that of a diesel-powered bus, but would result in significantly lower fuel, parts and labor costs and less maintenance needed over the long term.
The batteries on this particular bus take about four hours to recharge. Both electric and diesel buses have the ability to operate up to 12 years or about 500,000 miles. However, due to our excellent maintenance program, we're able to extend the life of buses to 15 years or between 750,000 to 825,000 miles.
The current test drive is the first of three electric buses we will be testing this year, all made by different companies. If you would like to get a closer look at the BYD Co. Ltd. electric bus, you can check it out at Earth Day in Forest Park on Sunday, April 26. We'll have more information about that coming up.
If you happen to board the electric bus on the #99 Downtown Trolley route, we would like to know what you thought about it. Send us your comments below.
Return to Blog