July 16, 2015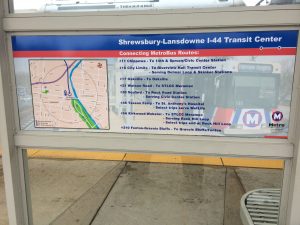 Metro is working hard to enhance the transit experience for riders and one of the ways we're doing that is by testing new information panels.
The new panels, which have been installed at several Metro transit centers, provide easy-to-use information about nearby amenities and attractions.
Each wayfinding board features a street map that highlights nearby landmarks, bike trails and other destinations within a quarter-mile walking distance from that Metro Transit Center. The panels also highlight all of the MetroBus routes serving that location.  The information panels are located at the 5th & Missouri, Belleville, Civic Center, Central West End and Shrewsbury-Lansdowne I-44 MetroLink Stations
The suggestion to install information maps came from the Metro Transit Advisory Group or MTAG, a voluntary citizens' advisory group that helps provide public input on agency decisions and improve public transit service in the St. Louis region.
"We want everyone to have a great experience on Metro, and that's why it's important our riders know how they can make the transit system work for them," said Ray Friem, Executive Director of Metro Transit. "With these panels, we can make it easier for our passengers to combine MetroBus and MetroLink on their commutes and give them the information they need to identify and connect with all of the important destinations they can reach with Metro."
We'd like to hear your feedback. Let us know what you think of these panels by sending us an email.
Return to Blog