May 5, 2016
Metro to Close North Walkway at Civic Center Transit Center
Return to Blog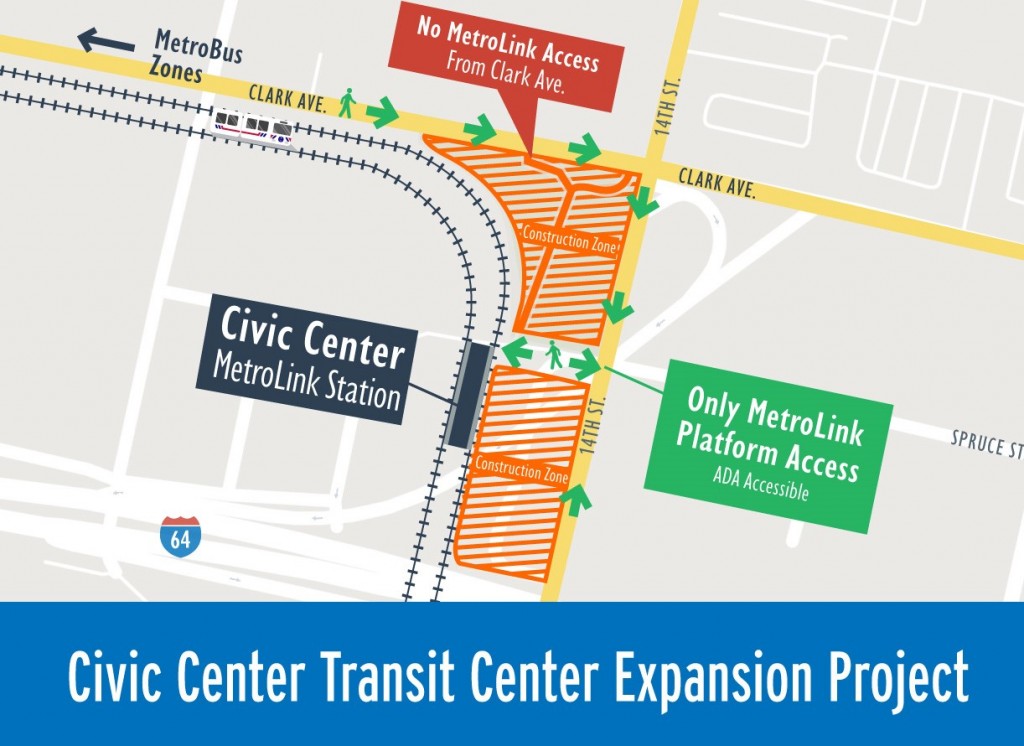 The Civic Center MetroLink Station in downtown St. Louis will remain open as construction gets underway to expand what is one of Metro's busiest transit hubs.
MetroLink riders will be able to access the MetroLink platform from 14th and Spruce Streets; however, the north walkway from Clark Avenue to the station platform will be inaccessible during the first phase of the construction project. Construction fencing blocking the north walkway will be installed May 9 through May 13 so MetroLink riders will need to walk to 14th Street to get to the MetroLink Station.
The stairs and ADA accessible ramps between 14th Street and the Civic Center MetroLink platform will remain open.  The Ticket Vending Machines at 14th and Spruce Streets and the Ticket Vending Machines adjacent to the MetroLink platform will be available for passengers to purchase MetroLink tickets.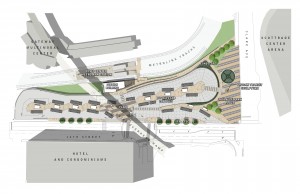 Over the next 18 months, the Civic Center Transit Center in the heart of downtown St. Louis will be expanded to provide triple the number of off-street bus bays. In addition, a transit center building will be constructed on the site that will feature an indoor passenger waiting area, public restrooms, a concession area, digital boards with MetroBus arrival times, and a Metro Public Safety substation.
The expanded Civic Center Transit Center is also designed to evolve as the future transportation needs of the region change. The transit center is designed to accommodate 40-foot buses, 60-foot articulated buses, electric buses, and will be able to serve as a terminal point for Bus Rapid Transit Service with very little modification.
The project design firm is Arcturis, and KCI Construction is the general contractor on the $10.5 million project. Metro secured federal funding for the expansion project, and those funds will support 80 percent of the total project cost. The enhancements will provide safer and more efficient transit service, and to offer Metro passengers a superior transit experience.
All 18 MetroBus routes which served the Civic Center Transit Center have been moved west to 18th and Clark near the Union Station MetroLink Station during construction. Temporary closures of the Civic Center MetroLink Station may be necessary during the project but as much advance notice as possible will be given if temporary closures are needed.
Return to Blog