August 22, 2012
Metro to Operate Special LouFest Shuttles This Weekend in Forest Park
Return to Blog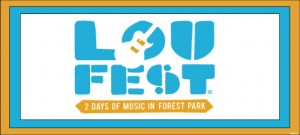 The LouFest Music Festival in Forest Park is the place to be this weekend (August 25-26) if you love music, like to eat, and support a green lifestyle. Metro Transit is offering extra service to get you there.
The #3 Forest Park Trolley will connect the Forest Park-DeBaliviere MetroLink Station to LouFest from 9 a.m. until 7 p.m. on Saturday and on Sunday. Starting at 7:20 p.m., Metro will operate a LouFest shuttle between the Forest Park-DeBaliviere Station and the LouFest Music Festival at Central Field. The last shuttle from LouFest each night is at 10:55 p.m.
The trolley/shuttle ticket is $2 for adults and can be used all day and night. You don't need to buy a trolley/shuttle ticket if you have a valid Metro pass. More information including  schedules and Forest Park Trolley and LouFest shuttle maps are on our website.
It should be a fun-packed weekend with local, regional, and national bands performing on three different stages. In addition to transit service, the greening effort at the two-day event in Forest Park includes recycling, composting, free valet bike parking, and a refillable water station.
Return to Blog