October 3, 2014
Metro to Provide Extra MetroLink Service for NLDS Games
Return to Blog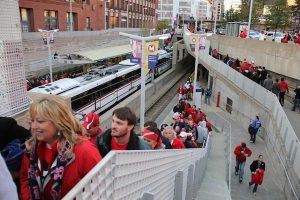 Baseball fans who want to avoid the traffic jams before and after the National League Division Series (NLDS) games Monday and Tuesday between the St. Louis Cardinals and the Los Angeles Dodgers may want to consider taking public transit.
Free Park-Ride lots are located next to 21 MetroLink stations in Illinois and Missouri making it convenient to take MetroLink to the Stadium Station or to another nearby station in downtown St. Louis to get to the games.Fans can find out which MetroLink Park-Ride lot is the closest to where they live and plan their trips online by using the Trip Planner feature.
Metro will provide extra service for the games and additional security and staff members will monitor the MetroLink platforms and assist passengers before and after the games.
Return to Blog