September 24, 2015
Metro to Provide Free Shuttle Service to Light the Night Walk
Return to Blog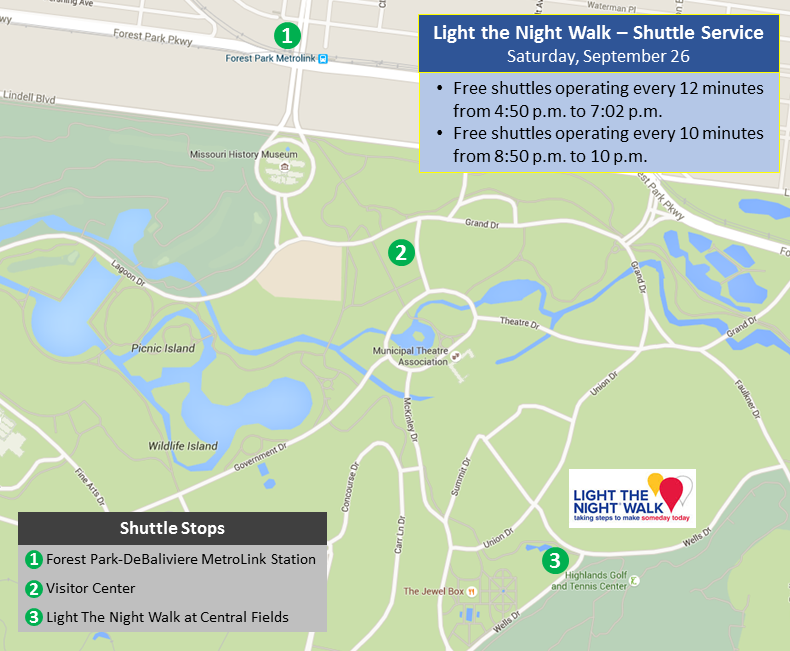 Metro is providing free shuttle service on Saturday, Sept. 26 to the Light the Night Walk in Forest Park, the Leukemia & Lymphoma Society's (LLS) annual charity event that promotes blood cancer awareness and raises money to support research for blood cancer cures. The Light the Night Walk is scheduled to take place at the Central Fields in Forest Park beginning at 5:30 p.m.
Metro will operate free MetroBus shuttles to connect walk participants between the Forest Park-DeBaliviere MetroLink Station and the Light the Night Walk area at the Central Fields. The shuttles will also make a stop at the Dennis and Judith Jones Visitor and Education Center to pick up and drop off participants who leave their vehicles at the center's parking lot.
The free shuttles will operate every 12 minutes between 4:50 p.m. and 7 p.m. As people make their way home after the event, they will be able to catch a return trip on the shuttles every 10 minutes from 8:50 p.m. to 10 p.m.
Those participating in the Light the Night Walk can park at any one of 21 free Metro Park-Ride lots in Missouri and Illinois and ride MetroLink to the Forest Park-DeBaliviere MetroLink Station to connect with the free MetroBus shuttles. Passengers can also ride on the #1 Gold or #90 Hampton MetroBus routes to reach the Forest Park-DeBaliviere Station and catch one of the free shuttles to the event.
Return to Blog