May 1, 2014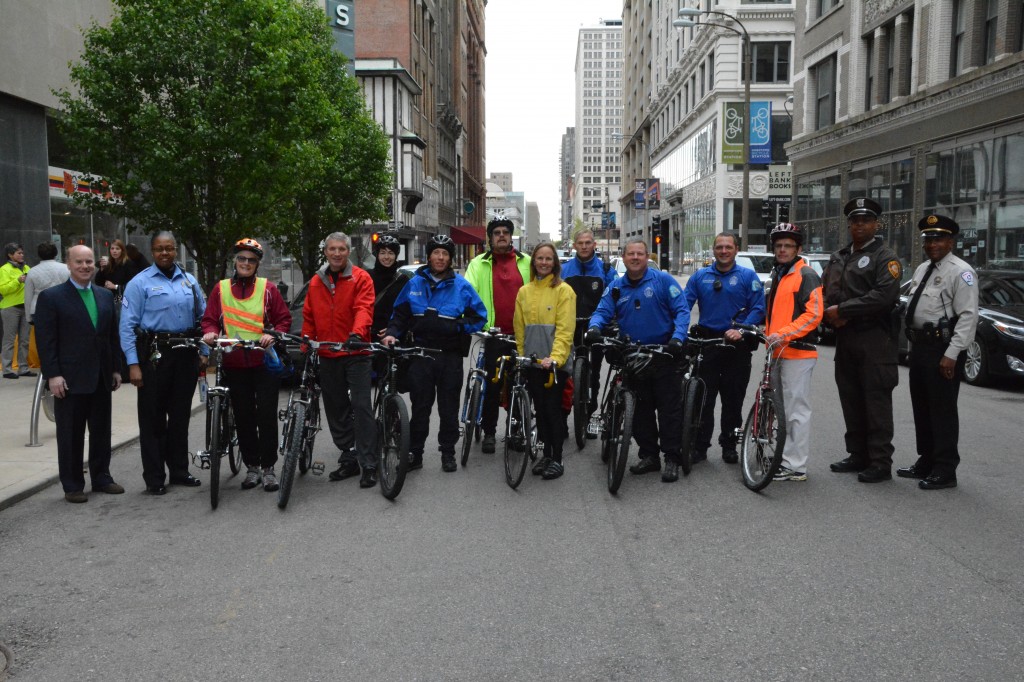 Metro customers have lots of options when it comes to transportation. Some of you prefer to park your car, and to walk or bicycle to your destination or transit stop. While walking and cycling both offer health, financial, and environmental benefits, the risk of incurring serious or even fatal injuries is greatly increased if you come in contact with motorized vehicles.
Metro has partnered with Trailnet and the Missouri Department of Transportation (MoDOT) to kick off the "Safe Roads for All" initiative throughout May to enforce the need for pedestrians, bicyclists and motorists to share the road and be aware of one another's safety. Leaders of these organizations, along police officers for St. Louis City, St. Louis County and Metro, led a safety bicycle ride and walk to MetroLink from the Missouri History Museum to the St. Louis Downtown Bicycle Station this morning to emphasize the importance of sharing the road.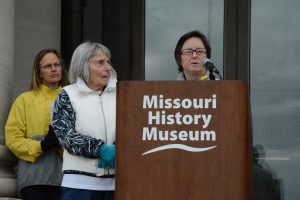 Alison Kinderfather spoke at this morning's news conference. Her mother was struck by a car in 2012 while waiting to cross a street in Webster Groves.
"My mother suffered a brain trauma and was hospitalized for a long period of time," Kinderfather said in a news conference today. "She's able to live at home, but requires full time assistance."
A livable community is one that provides safe and convenient transportation choices to all citizens, whether it's by walking, bicycling, public transit, or driving. During May, there is a significant increase in both cyclists and pedestrians on Missouri roads.
"Public transit is a safe and economical means for people to access jobs, schools, medical facilities and recreational venues in our region," John Nations, President and CEO of the Bi-State Development Agency/Metro, said. "Metro passengers use sidewalks and bikes to access our transit system. It is important for all of us to promote safe and accessible travel for everyone."
Nations added, "And with the St. Louis Cardinals season being in full swing, it is especially important for us all to be aware of each other's safety. We love the St. Louis Cardinals, we love baseball, but the way the Cardinals become winners, is how they get everyone safe at home."
From 2011 to 2013, pedestrian fatalities accounted for 10% of Missouri's traffic crash fatalities. There were 2,161 people killed during the last three years; 219 were pedestrian fatalities. That is a 2% increase in pedestrian deaths from the previous three-year period.
"Pedestrians and bicyclists need to understand that they have primary responsibility for their own safety," Greg Horn, MoDOT district engineer for the St. Louis region. "Motorists should always avoid distractions while driving and give complete attention to the road and its surroundings. We all play a role in sharing the road and making sure that everybody gets to and from their destinations safely."
Another 2,976 pedestrians were injured in Missouri traffic crashes from 2011 to 2013.
"Roads and sidewalks that are designed for safe, comfortable travel for bicyclists and pedestrians make the roads safer for motorized users as well," Ann Mack, CEO of Trailnet, said. "When we design and maintain our roads for the most vulnerable user first and foremost, everyone benefits."
This afternoon from 3-6 p.m., Metro employee ambassadors will greet customers and distribute safety items at the following Metro transit locations:
North Hanley Transit Center
Forest Park-DeBaliviere MetroLink Station
Central West End Transit Center
Grand MetroLink Station
Civic Center Transit Center
Fairview Heights MetroLink Station
5th & Missouri MetroLink Station
Shrewsbury Lansdowne I-44 MetroLink Station
Riverview-Hall MetroBus Transfer Center
As the weather gets warmer, more people will be walking and biking. Metro, Trailnet and MoDOT urge you to be aware of all users of the road. Here are some important safety tips for all bicyclists, pedestrians and motorists on the road:
Obey all signs and traffic signals and respect all road users.
Don't be distracted by talking or texting on your phone, changing the radio station or CD, eating or drinking, applying makeup, or reading while you're driving.
Pedestrians should use sidewalks and crosswalks.
If you are driving, watch for pedestrians and cyclists when you are making turns.
If  you must walk in the street, walk single file, facing traffic and stay close to the edge of the road.
Do not cross the street unless you are at an intersection. Many pedestrian injuries are fatalities are the result of crossing mid-block, without a crosswalk or light.
Bicyclists and pedestrians need to light up at night. Wear white or light colors and reflective strips. Have a friend observe you at night to help determine your visibility.
Don't run to catch the bus or MetroLink. You could fall and be hit by the bus or another vehicle.
When you get off the MetroBus vehicle, don't step out into traffic in front of the bus. You may not see a car driving next to the bus.
Have fun, be safe this summer and remember we need to share the road!

Created with Admarket's flickrSLiDR.
Return to Blog
Categories:
Safety