April 25, 2013
Metro Transit Excited To Participate in CMT's Great Race II
Return to Blog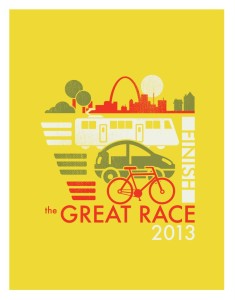 Give me a T-R-A-N-S-I-T! What does that spell?! Transit!
Metro Transit is proud to be participating on Team Transit in CMT's Great Race II.
Designed to play off the CBS television hit, "The Amazing Race," (minus host Phil Cogen of course) the race will place Team TRANSIT, Team BIKE, Team CARSHARE, and Team CARPOOL in a head-to-head competition to see which transportation mode can travel from downtown St. Louis to Clayton the fastest.
The race is set for Thursday, May 30. It will get under way at approximately 4:30 p.m. at Post Office Plaza, 815 Locust Street in Downtown St. Louis, and finish at the Fortel's Pizza Den, 7359 Forsyth Blvd., St. Louis, MO 63105. with a community celebration.
Rally behind your favorite team through social media! Also, make plans to take part in a fun-filled community event on May 30.
Like, comment on, and share, pictures and posts about Team TRANSIT, Team BIKE, Team CARSHARE, or Team CARPOOL.
Get in on the action by cheering on your favorite team at the starting point and celebrating alongside them at the finish line!
We hope to see you there!
Make sure you like the CMT's Great Race II Facebook page.
For more information, click here.
Return to Blog