May 3, 2013
Metro Transit Joins Area Cycling Groups to Kick Off National Bike Month
Return to Blog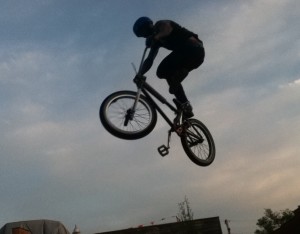 Area cycling enthusiasts kicked off National Bike Month in style last night with the educational #CarFreeSTL Happy Hour at the Handle Bar, a bike-themed bar and restaurant in the Grove neighborhood.
The event — co-hosted by the Great Rivers Greenway (GRG), Social Media Club St. Louis, and CityInAJar.com — was a virtual one-stop shop with all the latest information detailing how to get around the region without the use of a car.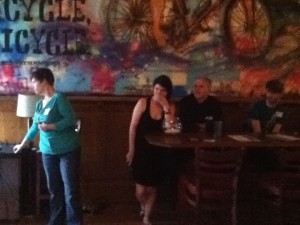 The GRG developed 114 miles of off-street bike and pedestrian trails and 84 miles of on-street bike paths over the last decade to work in tandem with Metro Transit. Check out their 2013 trail map here. Cyclists will share their experiences during May and beyond on Twitter and Facebook with #CarFreeSTL. Representatives from GRG, Trailnet, Metro, and others gave presentations and answered questions.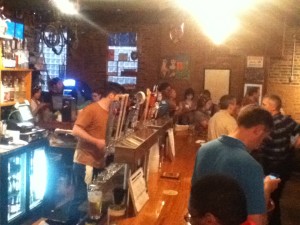 The night's guest of honor was local blogger Jess Leitch of CityInAJar.com. In honor of National Bike Month, Leitch will give up her car and use greenways, on-street bike routes, and Metro Transit instead for the entire month of May. Leitch is not an avid cyclist by any stretch — she admitted she has hardly touched her bike in years. By taking this plunge, Leitch hopes to prove that giving up your car and hopping on a bike is easier than one might think.
After all, you can't forget how to ride a bike, right?
The inspiring night was rounded out with sponsor presentations and videos, food from the Handle Bar's unique Russian menu and, finally, death-defying aerial bike stunts from the STL Sprokets Trick Cycling group.
Blog written by Metro Communications Department's Matthew Fernandes
Return to Blog