June 10, 2021
Metro Transit Service Adjustments Scheduled for Monday, June 21
Return to Blog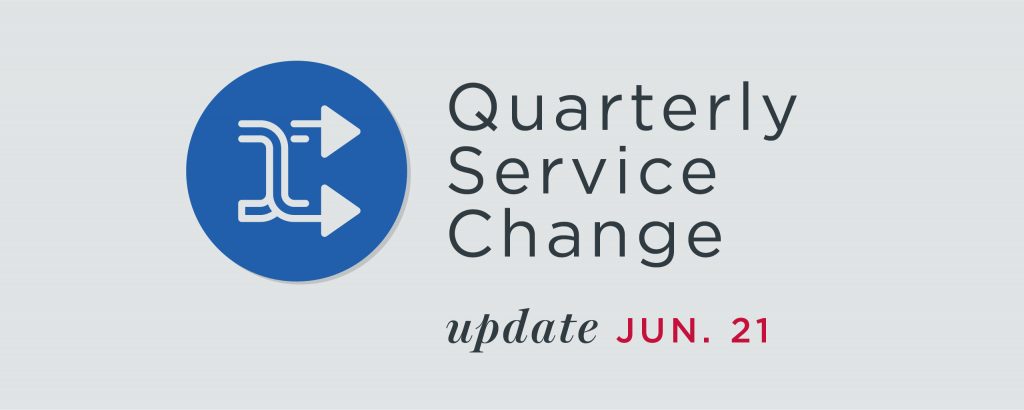 Metro Transit will make adjustments to 10 MetroBus routes that serve the City of St. Louis and St. Louis County in Missouri and St. Clair County in Illinois on Monday, June 21, as part of the regular quarterly service change.
In addition, Metro Call‑A‑Ride will resume fare collection on June 21, which was temporarily suspended last year due to the COVID-19 pandemic. ADA paratransit riders will pay $2 per trip, and exact fare is required. Metro is also launching our new On The Way With ADA pilot program on June 21, which will allow paratransit passengers to ride MetroLink and MetroBus for free.
There are no changes to MetroLink service in this quarterly service change.
New schedules and route information for the June 21 Service Change are available on the Upcoming Schedule Changes page: metrostlouis.org/upcoming-schedule-changes.
Planning Your Trip
To help plan your commute with Metro Transit, download the Transit app to your mobile device to plan your trip, pay your fare and check on the real-time status of your bus. You can also use our online Trip Planner or check out MetroLink and MetroBus schedules, or contact Metro Transit Information for additional assistance at 314-231-2345 (phone) or 314-207-9786 (text), Monday through Friday from 7 a.m. to 6 p.m.
Riding Safely
Since March 2020, we have made adjustments to transit operations and policies to protect our riders and team members, while continuing to provide transportation options for everyone throughout the region. Here are some reminders for riding safely with us:
Federal mandate requires everyone to wear a mask on Metro Transit. Please wear your face covering on MetroLink platforms, at Metro Transit Centers, when riding on MetroLink, MetroBus and Metro Call‑A‑Ride vehicles or waiting for your bus.
Whenever possible, practice social distancing when on your vehicle or when waiting at your stop.
Wash your hands regularly, or use hand sanitizer, and don't ride if you are feeling ill.
Use the Transit app for a contactless fare. You can buy MetroBus and MetroLink one-ride tickets and 2-hour passes through the Transit app with our mobile fares option.
See something? Say something. Metro Public Safety is available 24/7 to address any of your concerns. Text 314-300-0188 or call 314-289-6873.
Stay updated on all service and operations updates in response to COVID-19 here: metrostlouis.org/health.
Return to Blog
Categories:
Rider Alert
,
System Changes