January 30, 2013
Metro Transit Tests New MaxxForce Engine in MetroBus Vehicle
Return to Blog
Metro is honored to be selected as one of only two transit agencies in the United States to test a new bus engine called the MaxxForce engine.
Metro Transit is working with Complete Coach Works and Navistar to test out the new engine. It was installed in one MetroBus vehicle and has been on the streets for several weeks now.
"I don't believe it's an accident that Complete Coach Works thought of us and wanted Metro to be involved in the testing of the new engine at no cost to us or to taxpayers," said Ray Friem, Metro Chief Operating Officer Transit Services. "It's because over the last 10 years our bus team has built a solid reputation of sustained product excellence and is now becoming known as a leader in predictive monitoring maintenance systems and applications. Companies value our input because they want the benefit of feedback from a Metro team that can provide accurate feedback with all supporting documentation they need to make their product better. Over the past few years, we have participated in a number of new technology offers that seek to improve urban buses by testing new cutting edge technologies."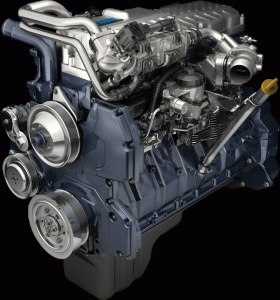 "When Complete Coach Works was looking for a fleet to test the ground-breaking engine technology from Navistar, we required a partner that would help properly validate the results of this testing," said  Complete Coach Works' Vice President of Sales & Marketing Macy Neshanti. "We chose Saint Louis Metro for their sophisticated approach to maintenance including their grounding-breaking research on predictive maintenance methods and techniques, their industry leading MTBF (Mean Time Between Failures), and their engrained culture of data collection analysis and reporting. This made them the ideal fleet to demonstrate this revolutionary new engine technology while monitoring and providing us valuable feedback on the MaxxForce performance capabilities. "
So, what makes this engine different? Navistar's MaxxForce Advanced EGR emissions technology prevents mono-nitrogen oxides (NOx) from forming in-cylinder. NOx are emitted by vehicle engines into the atmosphere as air pollution.
"Public transit fleets are increasingly demonstrating a serious commitment to clean air, and diesel offers a powerful solution," Neshati said. "We in turn are committed to offering the best alternatives for owners of all bus makes and models, and MaxxForce is a great option for repowers."
The MaxxForce 9 engine provides 300 horsepower and 860 lb.-ft. torque for demanding transit applications. To meet strict emissions standards, MaxxForce engines use Navistar's advanced in-cylinder NOx-reduction technology, which provides bus fleets with significant operational advantages over liquid-urea SCR emissions after treatment systems used by other diesel engine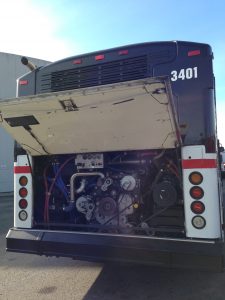 makers. These advantages include no secondary operating fluid (liquid urea) to add, no additional wheelbase length to accommodate additional fluid tanks, no additional driver training, and ease of maintenance.
"Navistar is committed to developing advanced air, fuel and after treatment technologies that put no additional burden on vehicle owners," said Eric Tech, Navistar Engine Group President. "This is advantageous to Complete Coach Works customers, in that repowers using 2010-compliant MaxxForce engines retain the footprint of older diesel engines, which makes for more economical bus refurbishment work."
Let's be honest, I don't have a mechanical background and have no experience working with engines. So it took a lot of research for me to understand what makes this engine special and eco-friendly.  I was able to ride the bus equipped with the new engine, and it was hard for me to pin point the slight difference in sound. It wasn't significantly softer, but the Metro mechanic driving us around said he could hear a difference in the tone.
Chances are you won't even know you are on the MetroBus vehicle with the test engine in it and you probably won't notice any difference in the sound of the engine. And that's OK.  You will just know your bus showed up on time and got you to where you needed to go!
Return to Blog