March 20, 2020
Metro Transit to Adjust Service in Response to COVID-19
Return to Blog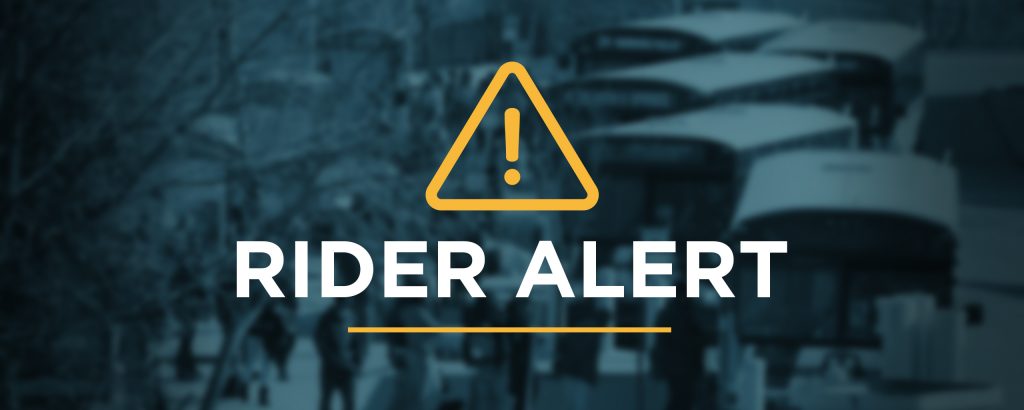 Updated 3/30/2020: MetroBus and Metro Call‑A‑Ride cash fares are temporarily waived until April 14, 2020.
Updated 3/29/2020: Metro is shifting its available personnel and transit vehicles in response to the COVID-19 crisis. Beginning Monday, March 30, Metro Transit will temporarily suspend service on four Missouri MetroBus routes: #1 Gold | #5 Green | #17 Mackenzie | #59 Oakland. Click to here learn more.
Update – 3/24/2020: The Transit Access Center and MetroStore are currently closed to visitors, but are still serving customers remotely. To reach the Transit Access Center, call 314-982-1510 or email [email protected]. For MetroStore, call 314-982-1495 or email [email protected]. 
Update – 3/22/2020: An eastbound 6:02 a.m. trip from the Fairview Heights MetroLink Station has been added to the modified schedule of the #12 O'Fallon-Fairview Heights bus route. This trip will not appear on schedules. It's being added to serve employees commuting to St. Elizabeth's Hospital. 
Update – 3/20/2020: Service on the #174X Halls Ferry Express is not being suspended. It will operate on its Saturday schedule on weekdays, providing service between the North County and North Broadway Transit Centers. 
Metro is making several adjustments to transit services and operations for the safety of transit riders and Metro employees, and to minimize the spread of COVID-19 through the bi-state region.
Service Adjustments to MetroLink and MetroBus
Beginning Monday, March 23, Metro Transit will begin operating a modified weekend service on weekdays until further notice. Transit service will be adjusted for most MetroBus routes currently served, but with reduced frequency and a shorter service day on some routes. These adjustments include:
MetroLink will operate the normal weekend schedule seven days a week until further notice.
MetroBus routes will operate on Saturday schedules, with the exception being routes that currently do not operate on Saturdays and Express routes in Missouri (see below).
Several MetroBus routes that currently do not operate on Saturdays will operate their normal weekday schedule on weekdays. These routes include the #17 Mackenzie (MO); #101 Fenton Connector (MO); #14 Memorial Hospital-Westfield Plaza (IL); #15 Belleville-O'Fallon (IL); #17 Carlyle Plaza-17th Street (IL); #21 Scott AFB-Main Base Shuttle (IL); #21X Scott AFB-East Base Shuttle (IL). Service on select Express routes in Illinois – #2X Waterloo-Columbia and #17X Lebanon-Mascoutah – will run on weekday schedules until further notice.
Service on Express MetroBus routes in Missouri is temporarily suspended. The #57X Clayton Road, #58X Twin Oaks Express, #73X I-55 Express, #79X North County Express, and #410 Eureka Express routes will be out of service until further notice.
The #174X Halls Ferry Express will operate on a Saturday schedule on weekdays. It will provide service between the North County and North Broadway Transit Centers.
Metro Call‑A‑Ride will operate the same span of service and the same geographic area that it currently operates on weekdays.
These service adjustments will allow Metro maintenance teams to increase the frequency of the enhanced cleaning and disinfecting protocols implemented for trains, buses and vans. To support social distancing, Metro will be closely monitoring service and will assign additional buses to high-volume MetroBus routes as needed to ensure there is sufficient capacity to safely serve all riders.
Customers who need assistance are encouraged to contact Metro Transit Information for schedule and trip-planning support. Metro Transit Information is available Monday through Friday from 7 a.m. to 6 p.m. by text at 314.207.9786 and by phone at 314.231.2345.
Fare Enforcement Waived on MetroBus and Metro Call‑A‑Ride
To minimize personal interactions and exposure to COVID-19, Metro is temporarily waiving enforcement of cash fares on MetroBus and Metro Call‑A‑Ride. Customers using all other fare types can also refrain from using the farebox. This policy will be effective beginning March 21 and continuing through April 14. All MetroBus customers will be required to board and exit buses using the rear doors, except in cases where customers require an accessible entrance at the front of the bus.
Fare enforcement will continue on MetroLink, and all MetroLink passengers need to have a valid fare in their possession when riding the light rail system.
In addition, to ensure safe social distancing between Metro Transit operators and riders, new orange lines are being installed on MetroLink train floors near the operator cab and yellow lines on the floor of MetroBus vehicles near the operator cab. Riders will not be allowed to stand within those zones.
Employee Temperature Screening
Beginning on Monday, March 23, all Bi-State Development and Metro Transit employees – including all MetroBus, MetroLink and Metro Call‑A‑Ride operators – will be required to have their temperature screened when they report to work. This policy will be implemented to reduce potential exposure for Metro Transit riders and other employees. Any employee who has a temperature above 100.4 will be sent home and asked to contact their doctor. Employees will be allowed to return to work once they are fever-free and have a medical statement from their physician.
Learn about all that we are doing to help prevent the spread of COVID-19 here: https://www.metrostlouis.org/health/
Return to Blog
Categories:
COVID-19
,
Rider Alert
,
Safety