May 23, 2013
Metro Transit to Host Job Fair on June 1: Immediately Hiring Part-Time MetroBus Operators
Return to Blog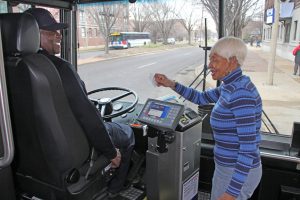 Metro Transit is looking for energetic, reliable, responsible and safe drivers to join the MetroBus team as part-time operators.
A Job Fair to identify interested candidates will be held on Saturday, June 1, from 9 a.m. to 3 p.m. at the MetroBus Central Facility located at 3300 Spruce Street, near Compton and Market Streets in St. Louis. Applicants must bring a current resume and be prepared to complete onsite applications and to participate in personal interviews. Metro Transit's top priority is passenger safety.
WHAT:      Metro Transit Job Fair for Part-Time Metro Bus Operators
WHERE:   MetroBus Central Facility, 3300 Spruce Street (near Compton and Market Streets), in St. Louis, MO
WHEN:     Saturday, June 1, 2013 9 a.m. to 3 p.m.
Candidates for part-time MetroBus operators must meet these specific qualifications:
Be at least 21 years of age
Have a valid high school diploma or GED
Have a valid Missouri or Illinois driver's license
Have at least one year of experience in customer service
Have at least three years of driving experience
Have a safe driving record
Be able to pass a background check and U.S. Department of Transportation physical examination and drug screen.
Have a Commercial Driver License (CDL) or be able to obtain a Class B CDL permit
Metro is an Equal Opportunity Employer and operates a Drug Free Workplace.
Return to Blog
Categories:
Metro Lifestyle