March 13, 2013
Metro Travel Training Program Teaches Qualified Residents How to Use Public Transit and Gives Them Independence
Return to Blog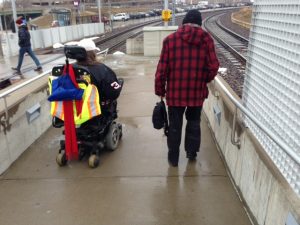 Recently, I had the opportunity to meet some great Metro employees who work hard every day to help individuals use Metro Transit.
Metro's ADA Services team offers a very special Travel Training Program. It teaches individuals who qualify for reduced fares or ADA paratransit services, how to ride MetroBus and MetroLink  independently.
Not all riders or trips are fully qualified for paratransit services and the training program focuses on helping individuals use MetroLink and MetroBus safely in the community. The program teaches riders how to purchase fares, recognize landmarks, pedestrian safety, community safety skills, and to understand schedules.
Travel training can provide individuals with independence, employment opportunities, access to the community, and community participation.
Based on individual evaluation, instructions are tailored to specifically meet skill levels and needs. Personalized instruction continues on a regular basis until the individual feels confident and can demonstrate complete independence in using public transit.
Through one-on-one instruction with a qualified instructor, riders learn to ride fixed route buses and trains. That means the individual will learn a specific route they will travel frequently: to a job, family member's home, or doctor's office. They also gain practical skills needed to travel the Metro system confidently and safely.
"My staff meets the person at their house, they walk with them to the bus stop, they ride the bus or train system to their destination, and they walk with them to their destination," explained Metro's Travel Training Specialist Michael McDermott. "If they need a higher level of support, our staff will walk them into the specific Barnes clinic that we are training them to go to for therapy, or maybe into some office building to meet their new supervisor. We're there for them."
The Travel Training program is a unique service that helps our community use Metro Transit more effectively and safely.
To obtain more information, sign up to participate or to arrange an in-service evaluation, contact the Metro's Travel Training Program at (314) 982-1554.
Return to Blog