April 23, 2013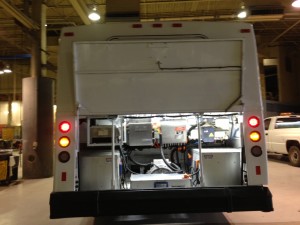 Earth Day has just passed and taking care of the environment is fresh in our minds. Today, MetroBus took a look at an all-electric bus brought to us by our past partner, Complete Coach Works (CCW).
CCW's all-electric transit bus is called the ZEPS Bus (Zero Emission Propulsion System). It  could provide a viable alternative to fossil fuels and help reduce America's dependence on the foreign oil, while alsoreducing fuel and maintenance costs.
This bus is much more than just an electric vehicle. CCW has taken the electric bus one step farther and has significantly reduced the carbon footprint by recycling a 1996,  out–of- service bus.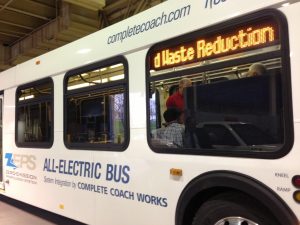 "This bus is more eco-friendly than just being electric," said CCW Regional Sales Manager Jay Raber. "This bus is a 1996 bus that has been refurbished. This reduces the cost of the bus, landfull pollution, our carbon footprint – and the bus looks like new."
Metro is encouraged by the advances in technology and intends to continue monitoring for future use.
"As the one of the best bus maintenance systems in the nation, MetroBus is always looking for new options for ways to remain on top," said MetroBus Director of Quality Assurance and Training, Darren Curry. "We are very interested in looking at the newest technology to see if we can improve our service, efficiency, performance and return on investment."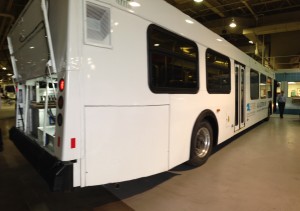 A look inside the engine compartment at the rear of the bus was breath-taking: no transmission, no engine, no belts, no oil, no coolant, and basically no sound. With only a soft, electric hum, I couldn't even tell the bus was running!
"This new technology could very well lower costs by 50% and raise dependability by 50%. We at MetroBus want to make sure we analyze and research thoroughly before we bring anything in," said Curry. "If there is a new proven technology that makes sense for our fleet, and , we'll be the first in line to do it."
MetroBus will certainly be keeping an eye on CCW ZEPS buses and all green technology.
WATCH: ZEPS 100% Electric Bus featured on Jay Leno's Garage.
Return to Blog