October 8, 2013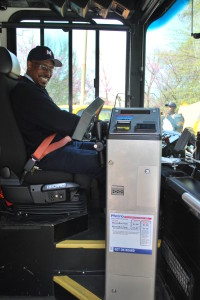 Starting Monday, October 14, 2013, Metro transit will join many other transit agencies in no longer accepting pennies as payment on its MetroBus vehicles. In addition, several months ago, the Agency began phasing out rarely used 50-cent coins and $2 bills. The fareboxes will still accept $1, $5, $10 and $20 bills, nickels, dimes, quarters and dollar coins.  As with the old equipment, the new fareboxes will require exact change or a valid Metro pass or ticket.
The new fareboxes replace 20 year old equipment that has become difficult and expensive to repair. The new machines provide more detailed passenger boarding information which will allow Metro to plan routes to better meet customer needs.  The new equipment has advanced software to better identify counterfeit bills and foreign coins, and will assure collection of correct fares and help reduce fare evasion. The new system will also allow customers to use faster and more convenient smart card technology payment methods in the future.
"We've taken another important step toward modernizing fare collection in St. Louis," said Ray Friem, Chief Operating Officer of Metro Transit Services.  "The new fareboxes have been tested on several bus routes for more than a year, and suggestions from customers and operators were used to make the system even better before installing the new equipment on the entire fleet.  We are learning even more with the wider implementation, and are continuing to work to provide the best product for our employees and customers." Friem says customers can look forward to even more innovations in the coming months.
MetroBus customers may email questions or feedback about the new fareboxes to [email protected] or they can call Customer Service at (314) 982-1406 between 7:30 a.m. and 4:30 p.m. Monday through Friday.
Return to Blog