February 10, 2011
On-Duty MetroBus Operator Hero Helped Rescue Family of Six From Burning Home
Return to Blog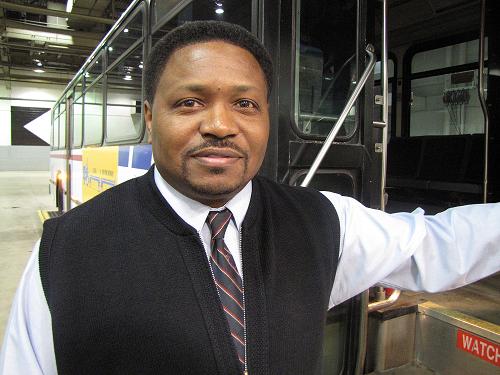 MetroBus operators do a lot of good for the community, getting people to work and around town.  But MetroBus Operator Brian Alexander went way beyond the call of duty recently when he risked his own life by going a burning home to help rescue a family of six from a house fire in East St. Louis, Illinois during one of his morning runs.
On the morning of Saturday, February 5 at approximately 6:55 a.m., Operator Alexander, 49, turned on the corner of 16th and Tudor in East St. Louis as part of his #4 19th and Central-MLK MetroBus route. He spotted smoke coming out of a home on that block. As he pulled up to the house, he saw flames coming out of the first floor windows. He called into Metro's communications center, who contacted emergency services. Alexander then parked the bus and went toward the burning building. A young man stepped out of the house, coughing and grasping for breath. Alexander asked if there were other people inside. The young man nodded and they went around to the back of the house. The young man went in and carried out two small children and a young girl followed. Alexander asked if there were other people inside, and the man indicated his girlfriend and baby were still inside. Alexander went inside the burning building to locate the girlfriend and baby.
Alexander said the house was filled with smoke and he could not see very well, but he could hear the baby crying. He felt his way to the bedroom, and grabbed the arm of the young mother and led her and the baby outside.  Alexander waited until the police and fire showed up and then finished his route.
Alexander has been driving with MetroBus for the past six years, and served six years in the U.S. Army and National Guard. He has four children and six grandchildren ranging from 9 years old to 4 months. His friends call him "Pontiac" because he restores vintage Pontiacs as a hobby. Alexander said he doesn't consider himself a hero. He said, "I couldn't have lived with myself if I'd heard that someone didn't make it out of the fire, as you often hear with these tragic fires." Alexander understands this personally, as he went through a house fire in 2004, and though everyone got out safely, he lost his home. He thought a lot about that moment on Saturday, and said it propelled him to make sure if everyone was out of the building.
MetroBus Operator Brian Alexander will receive an award for heroism from the City of East St. Louis during tonight's City Council Meeting. He will also receive a Proclamation of Heroism from Metro. We want to congratulate Alexander on his selfless actions, and though he does not consider himself as such, he is a true hero and inspiration.
Return to Blog