August 16, 2011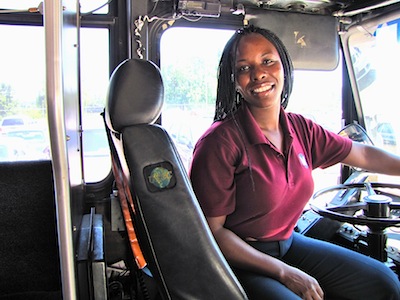 When you meet Marshanette Densmore, it does not take very long to see that she is a very caring woman.  When I met the MetroBus operator from East St. Louis, she pulled up a chair and listened attentively, eyes warm and smiling. She shared her story with lot of care and humility. It is no wonder that last month, Densmore came to the rescue of a scared, lost young boy she saw while driving her bus. 
On the evening of Saturday, July 2, Densmore was on her run for the #9 in Washington Park on Forest Street. As she traveled down the road, she saw something in her rear view mirror.  She was surprised to see a young boy, 3 or 4 years old, running toward her bus, and he was alone. Densmore quickly pulled over.
 "This was a very quiet part of the street with a lot of trees, a big creek and no children nearby. I had to make sure this little boy was alright,," she said. She asked him what his name was and who he was with. His said his name was Cameron,  he was 4 years old, and his mother was "in the new house." Densmore scanned the area, and didn't see anyone around. She then radioed dispatch and had them call the East St. Louis Police Department. She told the police he might live near the newer homes on 49th and Waverly, not too far from where she noticed him.
Officer Hill of the East St. Louis Police Department responded to the call. At first, Cameron was scared, but Densmore calmed him down, and told him the police were there to help.  Hill took the young boy to find his mother, and Densmore resumed her route. When she reached Emerson Park, Hill and her supervisor from Metro Transit were there to greet her and give her the good news: they had reunited Cameron with his family.
"I got really emotional, you know?" she said. "I was just really glad that he was safe." Densmore found out that Cameron's family was from Chicago and visiting relatives when Cameron wandered off. On her next run, she drove past the home where Cameron was staying for the holiday weekend, and was thrilled when he came running and waving at the bus. "I just wanted to make sure that he was OK," she smiled.
Densmore is one of many Metro Transit bus operators and employees who go above and beyond the call of duty because they care about the communities they live and work in.
Return to Blog