February 14, 2011
MetroBus Riders' Sweet Valentine Delivery: 10 New Low-Floor Buses
Return to Blog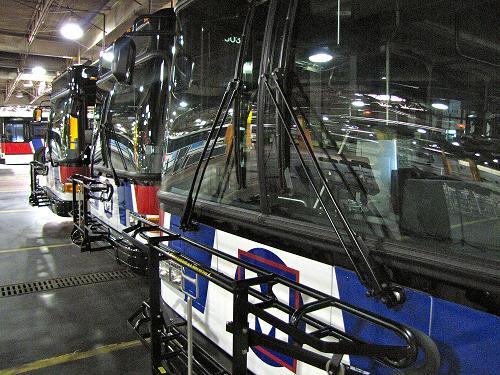 MetroBus riders received a sweet Valentine's Day Delivery today: 10 new low-floor MetroBus were unveiled at an event at the Brentwood Garage.  Metro Chief Operating Officer – Transit Ray Friem spoke today about the new buses, which include many features that increase passenger safety, comfort and accessibility, as well as reduces emissions, and improves route planning and maintenance.
The newest additions to the MetroBus fleet are 35 foot buses built by the Gillig Corporation of Hayward, California.  Metro will take ownership of 50 buses this year and 51 next year. Funding for the new buses comes from a Federal Transit Administration grant for transit vehicle replacement, and Metro's goal is to replace buses in the fleet as they reach 15 years in service.
These new buses also include GPS location software and the latest electronic dispatch technology to track vehicles for safety, efficiency and better route planning.
Ten of the new 35-foot American-made buses will run in Missouri; the next seven 40-foot vehicles off the assembly line will go to St. Clair County Transit to upgrade their fleet.  New features include:
Low floor with wheelchair ramps and kneeling features to make it easier to board
Specially designed areas accommodate two wheelchairs per bus and can be used by other customers in the absence of wheelchairs
Hanging straps
Blue floors
LED lights on the interior and exterior of the bus
Seating allows for increased aisle space and more ergonomic design
Equipped with latest computer-aided dispatch technology to track the vehicles for safety, efficiency and better route planning
Six-camera system on each MetroBus vehicle to monitor passengers, the driver and the road
Latest electronic control and emissions technology
Urea is injected into exhaust stream to reduce emissions
Stainless steel frames with aluminum panels are crash and corrosion resistant
Average cost per vehicle: $377,000
Willie Kimbrough of Paraquad and the Executive Director of the St. Louis Area Agency on Aging Dave Sykora spoke at unveiling the about the new buses' features that benefit the senior and disabled MetroBus riders, including the low-floor, "kneeling" action of the buses to avoid climbing stairs and the on-board wheelchair ramp.
More photos: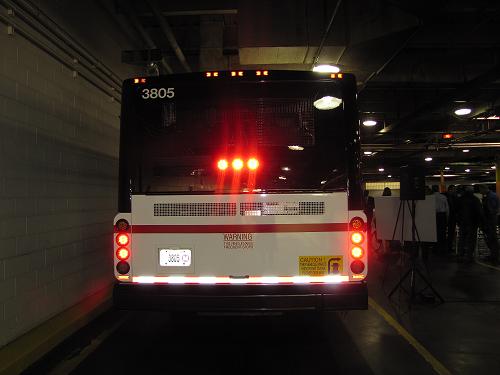 The new buses will roll into service starting next week.  Let us know if you see one on your route!
Return to Blog
Categories:
Capital Projects
,
Metro Lifestyle