August 15, 2012
MetroBus Service Returns to the Grand Bridge and the Grand MetroLink Station Reopens on Monday
Return to Blog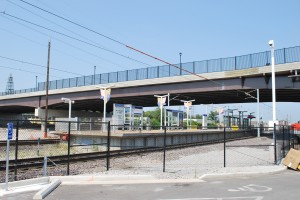 Monday, August 20, is the day many of you have been waiting for– the day MetroBus service  returns to the Grand Bridge and the day the Grand MetroLink Station reopens. The #70 Grand, #58X  Twin Oaks Express and  #410X Eureka Express MetroBus reroutes are almost over.
It's been a long 17 months riding the reroute to Union Station while the old Grand Bridge was torn down and a new bridge was built, but it was worth the wait. Metro is currently putting the finishing touches on building this better transit experience for you.
We are looking forward to resuming service to the Grand Bridge at the start of service on Monday and hope you like the changes we have made with  our customers in mind. There is new seating, better lighting, windscreens, new elevators, new stairs, and new bus lanes which will make your transit experience safer and better on the Grand Bridge.
Below the bridge by the Grand MetroLink Station, our new Scott Avenue Transit Plaza provides a whole new area that features new seating options, new ticket vending machines, a bicycle rack, greatly improved lighting, landscaping, and an illuminated sculpture. We also created a 58 space Park-Ride lot by the station.
As the #70 Grand service resumes at the Grand Bridge, we should remind you that the route will no longer serve Meramec to Jefferson & Chippewa. You can get the updated schedules, maps, and turning directions for the #70 Grand, #58X Twin Oaks Express, and #410X Eureka Express on our website.

Return to Blog