October 16, 2018
MetroLines Poetry Contest Winners Share Poems, Passion For Art
Return to Blog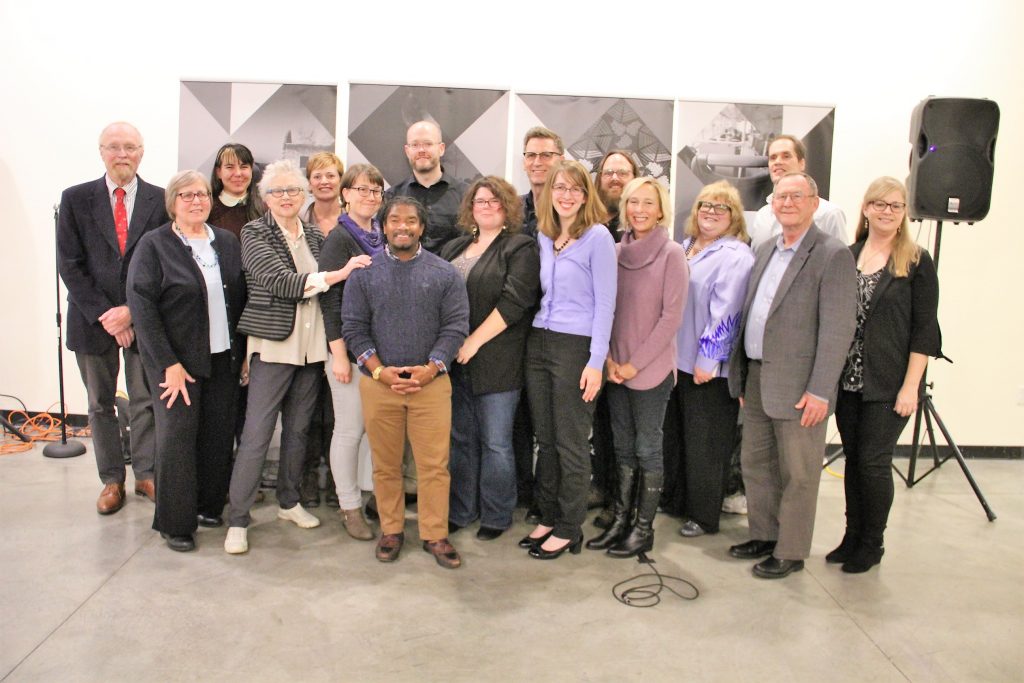 A new collection of poems is coming to a MetroLink train or MetroBus vehicle near you.
Winners of this year's Metro Arts in Transit MetroLines Poetry Contest read their winning poems at a special reception on October 11 at the Regional Arts Commission in the Delmar Loop. The winning poems range from no more than a few words to up to 15 lines.
In addition to having the opportunity to read their poems in public, each winning poet received a $100 prize for their poems which will be displayed in the interiors of MetroBus vehicles and MetroLink trains for up to the next year. A panel of literary professionals from the St. Louis region judged selected the winning poems.
All of the poets live within a 50 miles radius of St. Louis. The winning artists and the titles of their works are as follows:
Dawn Dupler, Ballwin, MO, "Ben Franklin Experiences Jimi Hendrix Backstage at London's Astoria"
Ben Moeller-Gaa, Louis, MO, haiku
Ellen Rohman, St. Louis, MO, "Dressing Wounds"
Steven D Schroeder, St. Louis, MO, "Some subjects are better / if we discuss in person"
Brigid Dolan, Chesterfield, MO, "Looking Glass"
John Savoie, Edwardsville, IL, "Autumnal"
Rachel Shields, St. Louis, MO, "After Dark"
Katelyn Delvaux, St. Louis, MO, "What My Father Should Have Said"
Markie Jo Crismon, St. Louis, MO, "The others will hear a drum"
Dena Molen, Kirkwood, MO, "The Road Trip We Never Took"
Gaye Gambell-Peterson, Charles, MO, "Intermission"
David Clewell, Webster Groves, MO, "Quality Control"
Dwight Bitikofer, Webster Groves, MO, "Candelabra"
Robert Lowes, St. Louis, MO, "LIGHT HOUSE"
Rebecca Ellis, Glen Carbon, IL, "Construction"
---
Winning Entries: Check out the poems from the 2018 MetroLines Poetry Contest.
---
"Every year, I am amazed by the incredibly talented community of poets living in the bi-state region, and to hear them read their winning poems at the reception was very powerful," said David Allen, Director of Metro Arts in Transit. "We hope their poems will further enhance the experience of the transit riding public as they commute on a MetroBus vehicle or a MetroLink train."
Poet and author Jason Vasser-Elong was the featured speaker at the special reception. Vasser-Elong read several pieces from his recently published book shrimp, his debut poetry collection examining identity in a post-colonial context. Currently a Program Specialist for the Missouri Arts Council, Vasser-Elong has an MFA in creative writing and poetry from the University of Missouri-St. Louis.
Arts in Transit is a non-profit subsidiary of Metro Transit founded in 1986 to facilitate public art programs and community engagement projects in the St. Louis mero area. Since 2001, Arts in Transit (AIT) has sponsored a variety poetry and literary programs. The program has evolved into MetroLines, which is supported by funding from the Missouri Arts Council.
Return to Blog
Categories:
Arts in Transit