September 8, 2014
MetroLink Expedition Takes Learning Out of the Classroom
Return to Blog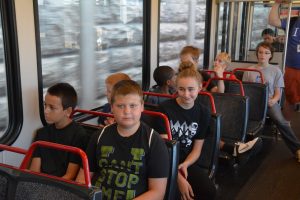 A group of about 95 seventh grade students from Maplewood Richmond Heights Middle School in Maplewood boarded trains at our Maplewood- Manchester MetroLink Station last month with one goal in mind – to learn through experience.
Teacher Kari Schepker-Mueller started the "MetroLink Expeditions" about 10 years ago. At that time, the field trip focused on various art pieces at our MetroLink stations and how they fit into the urban fabric, but it soon grew to include more disciplines.
"I developed it originally as an 'Art Expedition' having kids travel on the Metro to see different pieces of public art," she said. "From there, we started making it more interdisciplinary. Other content areas jumped on and we started incorporating social studies and geography, how communities are impacted by the MetroLink, timing the speeds of trains for math and science, etc."
Students use their photos to create a collage that mimics the style of artist Romare Bearden. They combine their images along with magazine images to represent the qualities of each MetroLink station. All of the collages are then connected to complete one "St. Louis Block," inspired by Bearden's famous collage piece The Block, and mirroring the St. Louis MetroLink system map.
The public transit outing also allows the students to practice social interaction. While on the train, students put kindness into action. They learned how to use their manners, how to let people off before they got on, how to give up a seat for an elderly or disabled person, Schepker-Mueller said.
For many students, like 11-year-old Malik, the all-day field trip was their first experience riding on public transportation.
"It's pretty cool," he said.
Eleven-year old Gwen had never been on MetroLink before either. She said she liked reading her book on the train and said the seats were more comfortable than she thought they would be.
"I noticed it was kind of like a train at Disney," she said. "I thought it was pretty cool."
Gwen said MetroLink would be a great way to visit places around town and not waste gas.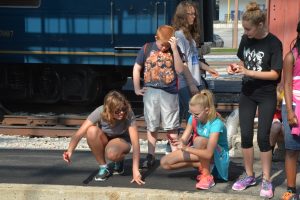 Schepker-Mueller said the expedition allows students to interact in their community and to address social skills at the same time.
"It's hard to imagine the world from a classroom," she said. "They do not know their place in the world unless you show them the world. Connections equal learning and growth. It's a lot harder to make a connection to a text book when talking about a topic than it is to show a kid the community and have them first hand observe its qualities."
MetroLink Expeditions have grown every year since it began. Schepker-Mueller is expecting even more students to get on board next year.
Return to Blog
Categories:
Metro Lifestyle