November 21, 2014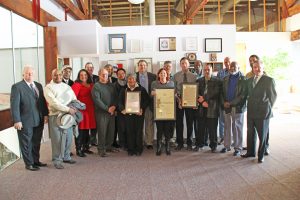 The  Bi-State Development Agency acknowledged an impressive MetroLink milestone during this morning's Board of Commissioners meeting.
A group of current and former employees, who operated our system from the beginning, attended this morning's meeting. The City of St. Louis, St. Clair County, and St. Louis County honored this MetroLink milestone by providing proclamations.
The light rail system for the region has surpassed the 100 million mile mark on its fleet. Of our 87-car fleet, 72 percent or 63 cars have logged well over a million miles. One light rail vehicle alone has logged more than 1.5 million miles.
"To be able to reach 100 million miles is a testament to the hard work and dedication of our employees who helped us open MetroLink in 1993, and of those who have kept it running smoothly for more than two decades," said Chief Operating Officer for Transit Services Ray Friem. "And I'm happy to say, we're still going strong and are on track to reach 200 million miles in 2030."
MetroLink opened for service on July 31, 1993, and now 21 years later, it has grown from 16 stations and 13.9 miles of track to 37 stations and 46 miles of track spanning the bi-state region. Passengers board MetroLink nearly 54,000 times each weekday, and during the last fiscal year, MetroLink recorded more than 17 million boardings.
Since 2011, more than $1.8 billion in public and private development has been built, is now under construction, or planned within a half mile of MetroLink stations.
"For more than 100 million miles, MetroLink has been an unqualified success," said John Nations, President and CEO of the Bi-State Development Agency.
Return to Blog