August 14, 2014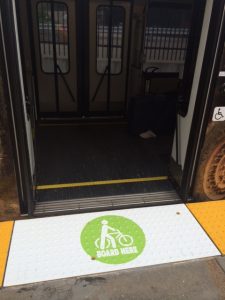 Passengers with bicycles are welcome on MetroLink, but many customers don't really know where they are supposed to put their bicycles when they are on the train. To help clear up the confusion, speed up the boarding process, and make it safer for all passengers, Metro is testing specially designated bike areas on the platform at the Central West End MetroLink Station.
One of the warning tiles on the edge of the platform has been replaced with a special tile that shows a bicycle with the words "board here." The tile indicates which train door a cyclist should use to board the train.
Bicycle Parking Zones are located in the doorways at the back of the first train car, as well as the front and rear of the second train car. Operators have to be able to get in and out of the cab so bicycles are not allowed in the front car outside the cab area or in the stairwell near the operator.
Only one bicycle is allowed in each Bicycle Parking Zone unless the second bicycle belongs to a child accompanied by an adult.
Metro customers with bicycles are urged to let all other passengers board MetroLink first. While on the train, cyclists should stand with their bicycles in the open or near the door.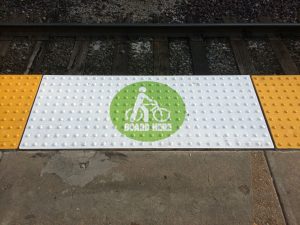 Cyclists should not leave their bikes unattended or on the kickstand because they might fall over during the trip and injure the owner or another passenger. When it is time to get off the train, a cyclist is encouraged to roll his bicycle off the train as quickly as possible, being careful to avoid other passengers.
Currently, when a cyclist enters the train and the car is already full or enters at the wrong door, the operator may tell him or her to exit the train and move to another designated door. This slows down service for everyone and can be frustrating for the cyclist. Boarding at the designated doors should help reduce the frustration and boarding delays.
If the special bicycle tile is durable enough to handle the foot traffic of MetroLink passengers at the busiest station, then Metro will consider installing them at all MetroLink stations in the future.  Trailnet is working with Metro on the bicycle decal project.
Return to Blog